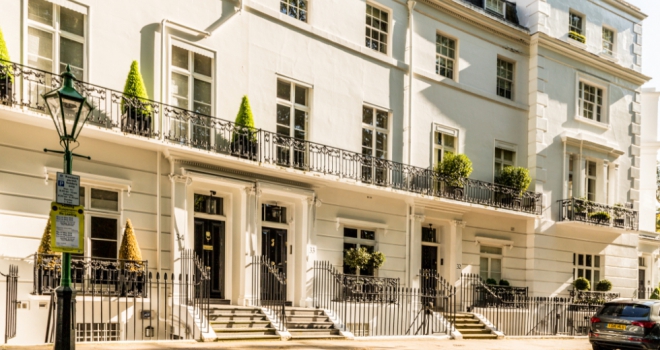 London based lettings and estate agent, Benham and Reeves, analysed the ratio of homes listed for sale to those sold across the prime London market to identify where high-end homebuyer demand is at its highest, as well as how this demand has changed quarter to quarter.
Homebuyer demand across the PCL market has crept up by +1% to 20% during the first quarter of this year. This has partly been driven by the continued trend for bigger homes and more green space with the largest quarterly increases coming via Wimbledon (+12%), Putney (+7%) and Richmond (+6%).
However, demand is also on the up in other more central neighbourhoods of the prime London market. Notting Hill (+6%), Pimlico (+5%), Fulham (+5%) and Holland Park (4%) have also seen some of the largest uplifts in demand.
Highest current demand
When looking at the areas with the highest levels of current demand, the trend of homebuyers looking outwards remains clear. Wimbledon is the most in-demand area with buyer demand at 44% overall, with Barnes (42%), Richmond (41%), Chiswick (39%), Putney (37%), Clapham (34%), Highgate (31%), Islington (29%) and Wandsworth (25%) also ranking high.
Again, Notting Hill ranks as the most in-demand area of the prime central market with demand at 22%, along with Holland Park. Fulham (20%), Kensington and Maida Vale (16%) also rank high.
£10m+ market
Overall, demand for London homes at £10m and above has climbed +2% between the first quarter of this year and the final quarter of 2020, now at 8% currently.
Holland Park (+17%) and Notting Hill (+13%) again rank amongst the best performing areas in the super-prime market, with both seeing some of the largest quarterly uplifts in demand during the first quarter of the year.
Both areas are also home to the highest levels of demand at present with Holland Park seeing 26% of all homes at £10m and above being taken, dropping to 22% in Notting Hill. Chelsea (14%), Victoria (13%) and Kensington (9%) are also amongst the most in-demand areas of London's super-prime market.
Marc von Grundherr, Director of Benham and Reeves, commented: "We're slowly but surely seeing momentum grow across the prime London market and a further uplift in homebuyer demand during the first quarter is certainly a positive sign for the year ahead.
"Of course, this increase in health has been boosted to an extent by the capital's less traditional prime areas such as Richmond, Barnes, Putney, Clapham and Highgate.
"These locations offer larger homes but more importantly, both the homes available and the wider areas boast a greater abundance of green space, which has fast become a must-have for high-end homebuyers.
"This is a trend that has been brought about due to lockdown restrictions and is no doubt here to stay, if only for the short to medium term. However, what's telling across the super-prime market, at least, is that demand for high-end homes remains very focused on prestigious market locations such as Notting Hill, Holland Park, Chelsea, Kensington and Victoria.
"Despite the introduction of a stamp duty surcharge for foreign buyers, we expect this demand to continue to build as London reopens and we return to some form of normality."