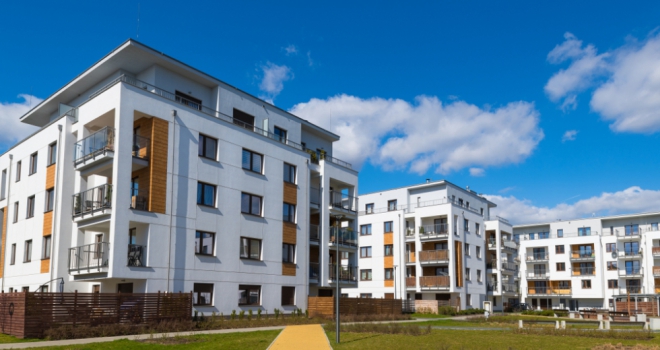 The demand for larger homes and more outdoor space across every county in England is showing no signs of slowing down, with three-bed houses the most desirable and one-bed flats the least.
Market analysis from PropCast, looked at buyer demand across England to see what percentage of houses and flats for sale were being snapped up, and how that differed between the number of bedrooms.
The data revealed that 73% of houses for sale are under offer or subject to contract – substantially higher than the figure for flats (43%). Houses are the most sought after with the top five counties being: Bristol (83%); Dorset (81%); Hampshire and West Sussex (80%); Northamptonshire and Bedfordshire (79%); and East Sussex, Essex, Suffolk, Devon, Cornwall and Somerset (78%). London has the least amount of houses under offer or subject across England (56%), but this is still larger than the sale of flats (35%).
On average, three-bed houses are in most demand with 76% for sale under offer or subject to contract, followed by two-beds (75%), four plus-beds (69%) and one-beds (62%).
Meanwhile, one-bedroom flats are the least desirable at 44% - most likely due to not having a garden and with limited space indoors – along with three-bedroom flats. In terms of flats overall, two-beds are the most popular (50%), followed by four-plus beds (39%).
Gavin Brazg, Founder of PropCast, said: "Over the last year, we can see buyer demand has grown to record high levels across England, and we don't expect this to peter out anytime soon. However, it's clear to see that if you're trying to sell a flat at the moment with minimal to no outdoor space, it is going to be harder to find a buyer quickly.
"My advice would be to look at the situation as if you are in a buyers' market, which is a time where you have to change your selling strategy in order to achieve the best possible price and fast. The best way to strengthen your position is to price conservatively from the start and choose a local, trusted estate agent who truly knows the market and how best to position your home within it."
Local property firms corroborate PropCast's findings.
Jennie Hancock, at West Sussex buying agent, Property Acquisitions, adds: "Houses will always be the most obvious choice for families relocating out of London, but what has been interesting to see is a shift in what my downsizer clients are looking for. Previously, a two-three bed apartment within the city/ on the outskirts would have been at the top of their wish lists but now they want to tick the same boxes a post-Covid family buyer wants. Ie larger homes, gardens, luxurious kitchens and bathrooms, potential for office space and outdoor entertaining options.
"The enquiries I have received over the last year from those looking to downsize are either centred around a village cottage or a substantially sized flat within a country house which boasts impressive landscaped grounds and wrap-around balconies or terraces."
Richard Winter, Surrey Property Search, says: "The demand for houses across North Surrey has never been stronger, driven by expectations from London buyers to have a garden, a separate home office and plenty of outside space that offers all the bells and whistles. Our current clients are all looking for features like these alongside privacy, with sought after locations including the prestigious estates of St George's Hill, Burwood Park and Wentworth, as well as private roads in Esher, Cobham, Oxshott and Walton.
"However, houses are not coming onto the open market very much, so there has been a significant rise in the number of buyers all looking for a similar property over the last year. This is putting upwards pressure on house prices as a result. Most of my purchases at the moment are actually off-market, where there is less competition for my clients. However, these properties are still selling close to or at the guide price, due to their desirability for the post-pandemic buyer. For example, I recently had a client bid on a large country house in Esher.
"There was one other competitive bidder, and the property sold within two days to our clients because we were able to offer certainty. Plus, we managed to buy it for 5% less than the asking price. On another recent purchase in Weybridge, we had to pay just over the guide price to secure the house and stop it from going on the open market where the competition would have been much higher."