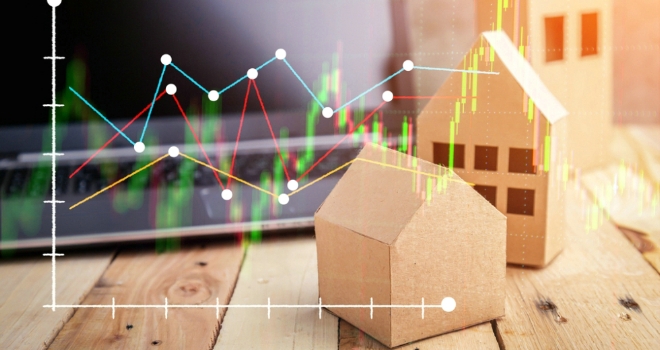 The latest data and analysis from Nationwide has revealed that house price growth ground to a halt in June as the full force of the Covid-19 pandemic filtered through into the UK property market.
According to the figures, Prices fell 1.4% month-on-month, after taking account of seasonal factors.
Robert Gardner, Nationwide's Chief Economist, comments: "UK house prices fell by 1.4% in the month of June, after taking account of seasonal effects, following a 1.7% fall in May. On a seasonally adjusted basis, house prices in June were 3.2% lower than in April.
"Annual house price growth slowed to -0.1%, from 1.8% in May. This is the first time that annual house price growth has been in negative territory since December 2012.
"It is unsurprising that annual house price growth has stalled, given the magnitude of the shock to the economy as a result of the pandemic. Economic output fell by an unprecedented 25% over the course of March and April – almost four times more than during the entire financial crisis.
"Housing market activity also slowed sharply as a result of lockdown measures implemented to control the spread of the virus. While latest data from HMRC showed a slight pick- up in residential property transactions from April's low, in May they were still 50% lower than the same month in 2019.
"Mortgage activity saw an even more dramatic slowdown – there were only 9,300 approvals for house purchase in May, down from 73,700 in February and 86% lower than in May 2019. However, our ability to generate the house price index has not been impacted to date, as sample sizes have remained sufficiently large (and representative) to generate robust results.
"With lockdown measures due to be eased in the weeks ahead, housing market activity is likely to edge higher in the near term, albeit remaining below pre-pandemic levels. Nevertheless, the medium-term outlook for the housing market remains highly uncertain. Much will depend on the performance of the wider economy, which will in turn be determined by how the pandemic and restrictions on activity evolve (including any behavioural shifts).
"All UK regions saw modest annual price growth of between 0% and 5% in Q2 as a whole (i.e. taking April, May and June together and comparing with the same period of 2019). The North West was the strongest performing region, with annual price growth picking up slightly to 4.8%."
Anna Clare Harper, co-founder of property fund, Anglo Residential, comments: "For obvious practical and safety reasons, the transactions that drive house-price growth have dropped substantially year-on-year.
"Yet there are some positive signs of future growth in this data. On top of this, we are hearing optimistic sentiment from investors in the residential sector, in particular sectors such as affordable housing and quality private rental sector housing in the right locations.
"Further, industry analysis suggests that the long-term trends of short supply and growing demand, in particular in certain types of housing and regions, are expected to continue, once the turbulence has passed. A dip in short term house-price growth across some periods is not something that needs to cause fear."
Neil Cobbold, Chief Sales Officer at PayProp, had this to say: "Despite a further reduction this month, there may soon be some recovery in average house price growth following the reopening of the property market in May."
"Demand for homes to buy and rent has bounced back impressively over the last seven weeks, but it will take some time for transaction volumes to return to normal. House price growth is therefore likely to remain suppressed in the coming months."
"Many buy-to-let investors and landlords will be monitoring the market closely at the moment, looking for opportunities to expand their portfolios – especially if market conditions scupper continued house price recovery and growth."
"The economic impact of COVID-19 could mean that more people have to rent for longer as they find it more difficult to save for a deposit to buy a home. This will be frustrating for prospective first-time buyers and housebuilders, but will provide landlords with confidence that rental demand will remain stable for the foreseeable future."
"Meanwhile, the gradual scaling back of the furlough scheme could present further financial issues for prospective buyers, mortgage holders, private tenants and their landlords."
"As the market enters a traditionally busy autumn period over the next few months, the multiple impacts of the pandemic on housing transactions and property prices will continue to become clearer."