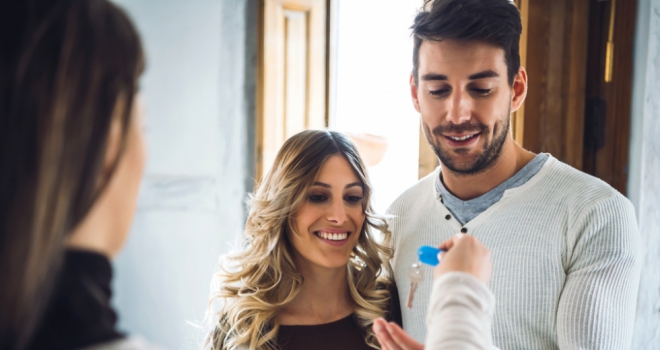 The latest analysis from Defaqto has found that due to the combined effects of a slowdown in house price growth and high LTV mortgages at an all-time low rate, it's a buyers market for those taking their first step on to the property ladder.
With UK property price growth slowing in some areas, the number of cheap High Loan-to-Value mortgages on the market increasing, and the government's Help to Buy ISA scheme coming to an end later this year, now could be the time for first time buyers to make the most of the present market conditions.
High Loan-to-Value (LTV) mortgages, where a borrower can buy a house with a small deposit such as 5% of the value and borrow the remaining 95%, are typically used by first time buyers to get on the housing ladder. Defaqto has found that interest rates have been falling for 95% LTV mortgages. A year ago, the average interest rate on a two year fixed rate mortgage was 3.95% and today it is 3.23%.
In addition, first time buyers can take advantage of a weakening housing market. Figures out from The Royal Institution of Chartered Surveyors (RICS) in March 2019 show that UK house sales continue to weaken with the number of properties coming onto the market falling for the past eight months consecutively; making this a buyer's market for first time buyers with a mortgage in place and no current property chain commitments.
First time buyers can also take advantage of the government's Help to Buy ISA scheme, but they will need to hurry as it is closing to new savers from 30 November 2019.
The Help to Buy ISA was set up by the government specifically to help first time buyers purchase their first home. All savings are tax-free and the government will donate an extra 25% towards the amount saved, up to a maximum of £3,000 per person (£6,000 saved, £200 per month). If two people plan to buy a property together and are both first time buyers then the government bonus is up to £6,000, but this does mean saving £24,000. Those already saving into a Help to Buy ISA have until the 1 December 2030 to use their savings to buy their property.
Katie Brain, Insight Analyst at Defaqto, comments: "Buying a home is an expensive undertaking and for many years we have seen that first rung of the property ladder move further out of the reach of first time buyers. Now, with stalling house prices and cheaper borrowing, we are entering a period of opportunity for buyers looking to make their first home purchase. However, if they wish to take advantage of the government's Help to Buy ISA scheme, they are going to have to hurry. Securing a 25% bonus from the government is not to be sniffed at but this really is a 'use it or lose it' moment for first time buyers.
For those looking to get a mortgage, it is important to do your sums and check exactly what you can afford to borrow. While interest rates are low, an increase of just 1% can add hundreds of pounds to a monthly repayment and thousands to the overall cost of a home. It's important to factor in what an increase could mean for your mortgage and whether you can afford it. If you need advice, talk to a qualified mortgage adviser who can recommend the best product for your needs."