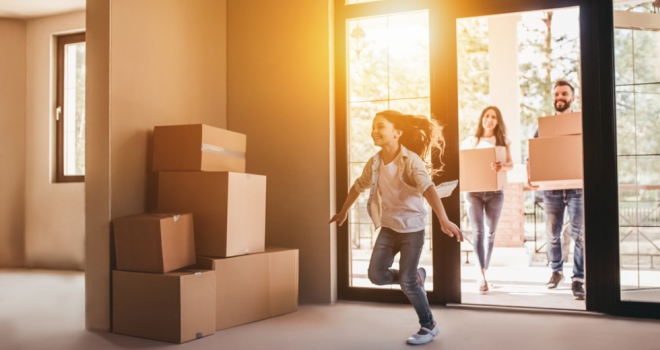 Living better, in closer proximity to family, friends, green spaces and amenities have become the stand-out priorities amongst prospective house hunters looking to move home in the post-Covid property market, according to newly released research from housebuilder, Redrow.
The new analysis of 2,000 UK adults reveals that 'living better' means being part of a community near to friends and family, with access to open spaces and shops providing essentials.
Equally important to being near to family is access to green open space, but the most important factor revealed was proximity to essential amenities such as a pharmacy or a shop selling food, indicated by 49% of respondents, evidencing a preference to stay local.
As exercising at, and around, the home has become more of a pronounced trend during the pandemic, just 8% of people ranked proximity to a leisure centre as a top location priority; but many more are interested in having a gin than going to the gym, with 17% prioritising getting to the pub easily.
Top 5 location priorities for potential home movers. Source: Redrow.
Respondents could indicate up to 3 top priorities.
Private parking is a top consideration for movers
A private car-parking space would be a top priority when selecting their next home for 38% of people, the second most popular answer. Younger people are less likely to see this as important with just 25% of 18-34 year olds considering private parking important. This was much higher at 48% for the over 55s and stood at 37% for those aged 35-54.
Having good broadband speed and a 'spare' bedroom which can be adapted for a range of uses (both indicated by 28% of respondents) were both particularly highly sought after. Both of these property attributes were elevated in importance during the lockdowns and enforced home working period for many in office-based roles.
Good broadband speeds are more of a priority for older people, with 30% indicating this factor in the 55+ category. This stood at 25% and 29% for 18-34-year-olds and 35-54-year-olds respectively. Overall, the most important factor when selecting a next home is access to a private outdoor space, such as a garden or a balcony, which was indicated by more than half of respondents (51%).
Top 5 home priorities for potential home movers. Source: Redrow.
Respondents could indicate up to 3 top priorities.
Itchy feet: 27% of people think they will move home in the next 2 years
The number of homes changing hands in the UK reached record levels in June 2021 in advance of the stamp duty holiday tapering off and then ending on 30th September, according to statistics from HMRC. People are still restless, with more than a quarter of respondents in Redrow's research saying they intend to move home in the next two years; 8% foresee they'll be making a move within the next 6 months.
Interestingly, the top three drivers for moving are all bricks and mortar-related, rather than being linked to location; 17% of people want a home with more indoor space, 14% are seeking a better-quality property and 13% want a home with more outdoor space. Very few people (just 2%) say their main reason for moving home is to move into a city or town, which aligns with the post-pandemic narrative of many people moving out of cities in the search for more space. Three times more people (6%) say their main motivation for moving is to get away from the city / big town they live in currently.
Matt Grayson, Group Customer & Marketing Director at Redrow, comments: "Our latest study reveals that more than a quarter of people have their sights set on a move in the next 2 years, as the nation continues its search for the ideal place to call home with space to grow.
"This study is the science behind our A Better Way to Live campaign, ensuring we are responding to the ever-changing needs and aspirations of our customers. We are noticing that homebuyers are increasingly invested in engaging with their local area. They want to live in places with essential amenities on their doorsteps and they also want to be within easy reach of friends and family, a vital network of support for many people throughout the pandemic.
"Our A Better Way to Live campaign showcases our core brand values and principles, which all come back to our dedication to building beautiful homes where people want to live. We are confident that our spacious homes with flexible living spaces, crafted with the utmost attention to detail, are ideally placed to satisfy the needs of the next wave of aspirational homebuyers."