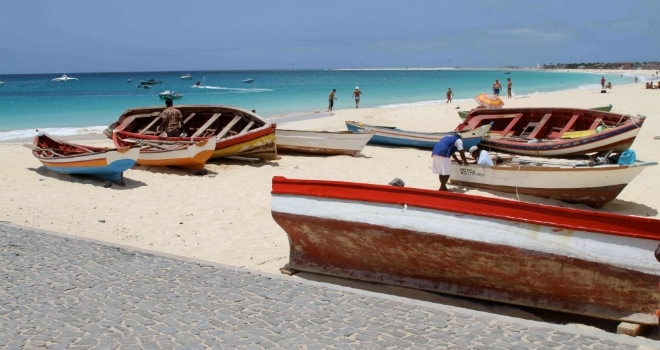 With just a few months until the opening of Llana Beach Hotel in Cape Verde, The Resort Group PLC has revealed that just a few properties are now left to buy.
The majority of the 601 luxurious hotel suites on the adult-only resort development have been snapped up by investors interested in high occupancy resorts that can deliver positive rental returns.

The remaining properties start at €155,500 and are both elegant and stylish – guaranteed to make a fantastic rental property for holidaymakers in Cape Verde. Most notable is the duplex suite, which is available to purchase for €238,000. Set over two floors, the suite has a balcony with a Jacuzzi that offers panoramic views across the resort and the ocean.
Looking for a new property investment? The Resort Group PLC shares five facts about the property market in the archipelago.
1. Cape Verde tourism is thriving. The actual and forecast growth in the number of tourists visiting the islands is creating a high demand for rental property from private villas right through to beachfront holiday resorts. For as long as people continue to travel to Cape Verde, which the World Travel & Tourism Council reports, the buy-to-let property market will continue to grow.
2. Most properties are situated in resorts. While there are some small boutique and independent hotels, the majority of holiday properties in Cape Verde are located on self-contained resorts. Big players like Meliá Hotels international are capitalising on the demand for high quality accommodation on the islands.
3. Cape Verde is protected from overdevelopment. As with some overseas property markets, there is the potential for overdevelopment in the future, and a destination can lose its original charm and appeal, resulting in less demand and an excess of supply. The Cape Verdean government however has strict legislation in place that only allows low level and low density projects to proceed, which protects the look and feel of the Islands, and restricts the number of properties that can be built.
4. Management schemes are available to increase investment success. By signing up to a buy-to-let management scheme, investors are supported on all aspects of running an overseas property from advance holiday bookings through to property maintenance. Those buying a property on a resort run by a well-known operator can join a hotel management scheme which offers the same benefits and more. Such resorts are marketed on a global scale through travel agents and tour operators, meaning their properties are more likely to see high occupancy levels.
5. Sal is the most popular island for property investment. The success of the holiday property market in Cape Verde is largely driven by the increasing number of visitors to Sal. Two of the island's largest resorts, MELIÃ Tortuga Beach Resort and MELIÃ Dunas Beach Resort & Spa, have attracted over a million tourists combined. Some property developers are now looking to build resorts on the island of Boa Vista, which is earmarked to become a new overseas property investment hotspot.
Rich Moore, UK Sales Director at The Resort Group PLC, said: "All of our suites come fully furnished to the highest possible specification and our range of furniture has been approved by our hotel management partner, Meliá Hotels International. Combined with the unrivalled views and activities that Cape Verde offers, Llana Beach Hotel will provide guests with the most indulgent and unforgettable holiday experience – which in turn means investors can be sure their property will deliver the rental returns they would expect of a high quality hotel."