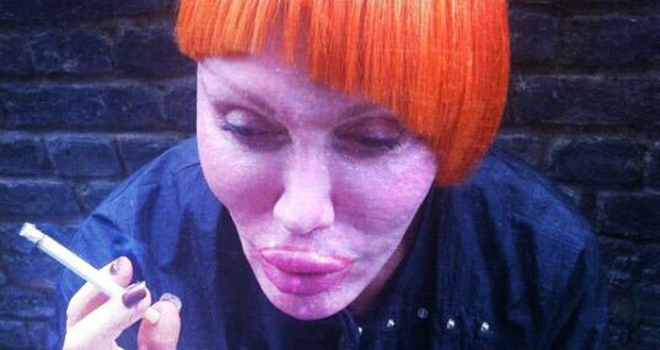 ""
Pete Burns has been evicted from his London flat this morning after failing to pay more than £30,000 in rent.
The former star was not at home when legal representatives from his landlord came to repossess the property.
According to a possession order, Pete (55), who has been declared officially bankrupt, owes £34,000 including legal costs and has caused his former landlord to suffer a breakdown due to the stress of the situation.
The eviction was carried out by Landlord Action and its founder, Paul Shamplina had this to say: "We carried out the eviction this morning, with the bailiffs from the court. This was a complete nightmare for our landlord, on two occasions he instructed us to serve eviction notices, he put the case on hold to give the tenants extra time and his good will was taken advantage of, thus leaving him with rent arrears of over £34k. We wanted to act sooner and get his property back. Yesterday at the eviction the landlord who had suffered a breakdown, was unable to speak, because he was in complete shock, that he had finally got his property back.
Paul continued: "Obviously its harder for the landlord, as he used to live in the property, so he has an emotional tie to it. Thankfully the property was left in a decent state, but the front door had previously been kicked in from an accident, which had happened on many occasions, as the landlord had received complaints from neighbours. Whether we will take debt recovery action against the other tenant, we will have to wait for instructions
We are constantly offering advice and educating landlords about their obligations , when they are having to go through the stress of going to court and evicting a tenant."
The Dead or Alive front man, who's best known hit is You Spin Me Around, has been out of the public eye for the last 9 years, appearing on the 2006 season of Celebrity Big Brother being his last majot TV appearence.
Six years ago he won £450,000 in an out of court settlement following botched lip surgery which saw his lips swell to 18 inches.
At the time Pete said he was left 'suicidal' by the damage caused however, he said he would continue to go under the knife and insisted: "I don't feel like I'm addicted to surgery.
I could leave it alone for long periods of time if I wanted...I'll wait another couple of years before my next overhaul...my face might fall off!"