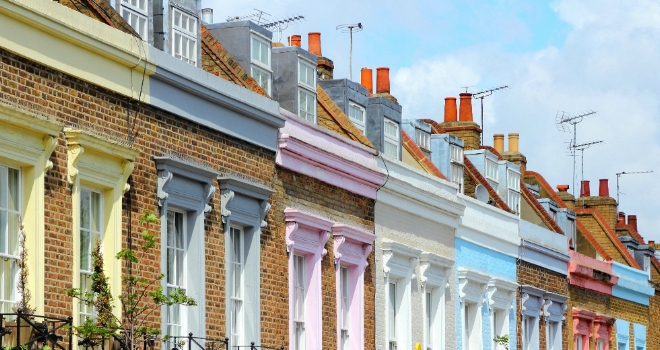 ""
In the late 50s and early 1960s, Peter Rachman became infamous as a landlord in the Notting Hill area for exploiting tenants. This led to a 'poor view' of institutional landlords and many companies sold up and moved on to invest in other things.
At the same time, according to the paper from the House of Commons library on the 'The historical context of rent control in the private rented sector':-
"The private rented sector which had made up nine-tenths of the housing stock in 1915 declined to one-tenth by 1991. Rent control has been widely identified as a factor in this decline because of its effect of reducing possible rent returns: thus reducing investment."

The sad consequence of these two factors (among others) were the UK missed out on huge amounts of institutional investment ie large landlords who could let long term to tenants.
In the end this meant that while other countries benefited from huge stock investment, we didn't. The result is unlike the likes of Netherlands and Switzerland which institutional investors have nearly 50% of their investment in residential property and even areas like the US have 21%, in comparison we have just 1%.
A lack of institutional investment, in my view, is one of the key reasons for the lack of stock over the last 30 years in the UK too, alongside the lack of self-build and social homes.
After all these years and with the huge growth in the Private Rented Sector over the last 10 years and predicted on-going, institutional investors are finally coming to the UK, which is great news for tenants and the PRS.
At the moment around 70-80% of landlords in England have just one property. It means most are mom and pop landlords. The majority treat their tenants extremely well and abide by the law as many rent through a self-regulated agent from NALs, ARLA or RICs. However, if there are difficulties, such as divorce, sickness, financial problems, it is likely they may have to sell or if improvements are required, it doesn't mean they can afford to renovate the property. If they rent directly it may mean that 'accidently' they don't abide by the law.
And this is a problem now and moving forward. Savills predict there will be another million households in the PRS by 2019 – and this cannot be provided for by individual investors alone. Partly because there just isn't the existing stock for them to buy. What we need on-going is for specialist new properties to be built for long term rental needs.
Currently two housing policies affect the chance of institutional investors investing in the UK. Firstly there is the build to rent model which is expected to provide over 10,000 new rented properties to the market with sites being developed with a minimum 100 properties on them. Although started back in 2012, we have yet to hear about the delivery of these properties and therefore know their impact at a local level well enough to know if it will be successful.
A more scary policy though is the idea from Labour that, despite the damage done back in the 1960s, rent controls will be re-introduced. The idea is that they will 'put a ceiling' on rent rises.
The problem is that according to market data, rents don't need a ceiling. They already have the most natural ceiling a market could have: wages. Basically a tenant can only spend what they have in their back pocket – even if demand is higher than supply. As a result we've seen rental inflation (according to the ONS), on average at 2% per year. This rise is even below the average cost of living inflation which is around 3% per year. What this also disguises is that many landlords who do rent long term to their tenants and have a good relationship, rarely increase their rents from one year to the next, so good tenants and landlords end up looking after each other.
In the social sector on the other hand, rent controls already exist and, according to the ONS data 2012/13, rents rose in this sector by 21% since 2008. In comparison, PRS rents rose by just 7% - a third less.
For tenants to benefit from policy changes, it's essential we secure more institutional investment in the PRS, to do this we need to make sure that they have the ability to charge rents which work for their business model as opposed to artificially capping something which actually works well already as a 'free market'.