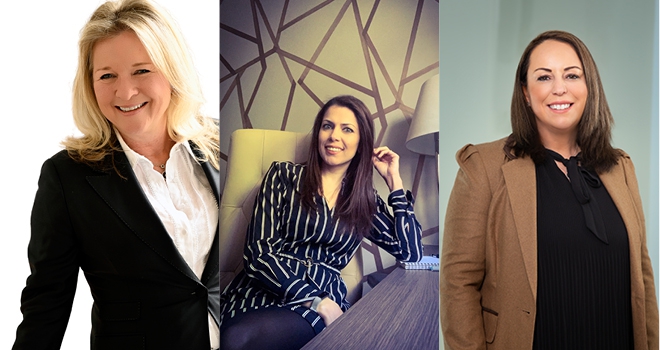 "I have noticed the property industry has predominantly been male-dominated, however, I feel being a woman in this industry is an advantage, as opposed to a disadvantage"
What were your first steps into the property industry?
Caroline Comer: "I've been in the industry, one way or another since I was 11. I have worn many hats within my father's company, which he set up with my uncle in 1978, since then but my favourite is my current role as Sales & Marketing Director. I really enjoy building an identity for a new development and then selling that dream to buyers. I have worked on numerous high-profile projects including Princess Park Manor, Royal Connaught Park, Mast Quay and most recently Newland Park, a stunning 200-acre private gated development in the Chalfonts."
Rutu Buddhdev: "I set up Amara Property in 2010 and we have organically grown from individual projects to one-off spectacular mansions and large multi-unit developments with the main objective of creating homes that have something special.
"It's a tired saying in this industry, but I found that a lot of new builds all followed the same template and that it was difficult to distinguish a difference across various sites and developers. I wanted to bring something different to the industry and deliver a product that stood out from the crowd and I felt that I could that by looking at it from a different viewpoint, as a woman."
Rayna Hunter: "Property is in my blood, my father has had many successful property businesses and my first experience of the industry is when he used to own an estate agency and I would wait in the office after school. Sometimes I would answer the phones and take messages or pass on requests, so you could say that I truly cut my teeth from a young age. My father has also been a huge influence on my career, and I have learnt a lot of his traits, one of them being never to take no for an answer and always find a way around problems or obstacles rather than shy away from them.
"At first, I followed a different path by forging a successful career in PR and Events, but I have always seemed to have had property in the family, with my eldest son now one of the UK's leading Interior Designers, and of course my husband who is my co CEO, so when he founded LH1 Global, I saw it as fate and asked if he 'would like a hand' initially and then the rest is history …!"
Did you find being a woman created any challenges for you?
Caroline: "Gender hasn't been a hindrance to progress itself, but working in the family company means I have to work ten times harder to prove that I am in the role I deserve and not the role that was handed to me. So it's this work ethic that has supported me along the way.
"I have worked seven days a week, and you'll see me doing whatever it takes to get the job finished. I have had to don a hard hat and boots on numerous occasions to get a development looking its best, so I can sell it. I've never let the fact I'm a woman stand in the way of achieving the best results for Comer Homes and no one has stopped me because of it either."
Rutu: "Most definitely in the construction industry, but more because there are so few female leaders in the sector. Typically, women tend to favour some of the more office-based roles, such as design, sales or admin, but there is a place on site for us, you just really need to know what you're talking about, otherwise, you can lose respect quickly. Luckily, I started my career in property when I was younger and didn't have as many commitments, so I could really throw myself into it and that was a fantastic education for me."
Rayna: "I have noticed the property industry has predominantly been male-dominated, however, I feel being a woman in this industry is an advantage, as opposed to a disadvantage. Albeit, I have had to gain the respect of my male peers.
"I would say I have done that by being assured and confident in my abilities, it is this more than anything else that has allowed me to enjoy success in the industry. Interestingly, I don't feel that people have ever looked at my gender, but who I am as a person and that has allowed me to build trust and strong relationships."
Have you felt that being a woman has given you an advantage in the industry?
Caroline: "Property is quite male-dominated and being a strong and decisive woman can rub people up the wrong way sometimes, but you have to be a tough character to compete no matter your gender. I do feel you have to work that slight bit harder as a woman within this industry to make yourself heard and respected among your peers, which I hope will change in the future as more and more women become figureheads and role models."
Rutu: "Yes, at times a big advantage. I feel that as a female leader in the industry, I can look at things differently and from a housebuilding perspective a woman's touch can be crucial. We have found that often it is the woman of the house that will make the final decision or instigate the search and there are specific qualities they look for. One of the key ones being room sizes, layout and finish, so we have put a lot of focus into this in our projects and have seen them sell out quickly."
Rayna: "I play to my strengths as a woman and use the fact I am a woman to my advantage, to ensure through mutual respect the job gets done. I do find that I bring other qualities to the table, be that a natural nurturing side of my personality or just looking at things from a different viewpoint can really cut through and adds real value."
What have been your biggest achievements in your career to date?
Caroline: "Every development I have shaped and sold is a huge achievement. I see everyone as if they were my children and it's up to me to nurture them and ensure they become something that will be an asset to its surrounding and something that we can be truly proud of. We take our role as a housebuilder that delivers hundreds of homes each year incredibly seriously, so to be able to deliver homes that people will love and enjoy is always a source of great pleasure for me and the rest of the team."
Rutu: "Growing the business to what it is today is my best achievement. To have seen true year-on-year growth since we started 13 years ago is a huge testament to the work we have all put in. Each year we set ourselves targets and more often than not we reach beyond them and achieve real tangible growth.
"At the beginning, I was the jack of all trades but master of none and today we have true experts in their fields throughout the company. It is this diverse skillset that has allowed us to be where we are today and I couldn't be prouder of our progression."
Rayna: "One of my biggest achievements was in my previous company organising events, where I organised a £3 million dollar budget party in The Bahamas and booked Rod Stewart to play on the beach for the client and his guests. In my role in property, every day brings a new challenge and every time we see a development complete and know that our company has been instrumental in the success of that development this gives me a huge sense of pride and achievement.
"Every development we work on is personal to me and I treat it as my own, so when decisions are being made or work done then it has to be the highest standard and no lower. It is maintaining this that is the real challenge and one I see as a huge achievement each and every time we deliver for our clients."
What measures do you feel need to be taken to attract more women to pursue a career in property?
Caroline: "I think we need to see more women within this industry, especially on the construction site. I would love to see more female project managers and site workers. For example, we have encouraged a young woman to pursue her dream career of becoming one of our project managers. She enrolled in our apprenticeship scheme and is progressing very well.
"She has a bright future because she has learnt the skills necessary for the job. Gender shouldn't come into it if you're passionate about the role and know what you're doing. This is certainly a pathway we want to open for more women coming into the industry and one I hope other developers will open up too. We are seeing progress across the board, especially since I first started, but there is still hard work to be done."
Rutu: "It all comes down to education and showing women that there is a place in this industry for them where they can add a lot of value. More needs to be done in schools and colleges to promote the benefits of starting a career in property, development, construction and so on. Currently, it feels like its positioned as a hands-on job for the boys, but there is so much more to it than that and we really need to start building the foundations now so in the years ahead we have a growing talent pool of eager individuals that can take the industry onto another level."
Rayna: "Women must not feel intimidated by working in property or in a male workplace, I think women need to be given the confidence and reassurance they will be working in a secure, exciting, and challenging environment. Construction can seem like a rough and ready place where only a certain type of female personality could thrive, but there are opportunities for everyone.
"In my opinion, you just need to embrace the challenge, It doesn't matter if your hair gets messed up through wearing a hard hat on site or if you don't like the look and feel of the PPE - my team bought me pink safety boots, so I can still embrace my femininity even on a working site!"
What do you think the future looks like for women in the industry? Do you believe there are equal opportunities for female leaders to progress?
Caroline: "There is a bright future for women in this industry. Attitudes have changed over the years and we are seeing a complete shift in attitudes. My advice to the next generation of female leaders is to be strong, empowered and inspiring. When women become leaders, they bring new talents and new views alongside structural and cultural diversity to the companies they work for, resulting in more successful solutions. The property industry is so diverse and is the foundation of our future, building the structures of how we live, work and play, so women have a huge role to play in shaping what we can do today and tomorrow."
Rutu: "The industry is growing and standards are being driven by the larger housebuilders that set diversity targets and operate inclusive apprenticeship programmes. I feel as though the process needs to be sped up, but we're in a good place, with everyone pulling in the same direction. Ultimately, a diverse team is a profitable one, so it pays for businesses to diversify and attract different genders and cultures into their workforce. We are playing our own part through an apprenticeship programme, which we hope to expand in the years to come"
Rayna: "I think the future is bright and regardless of gender, if you work hard and deliver for your clients you will earn the respect of your peers. This is not about man versus woman, this is about being a strong individual committed to your role and taking pride in your achievements. The property industry is so diverse and has a multitude of opportunities for women to build a career that is rewarding both mentally and financially."