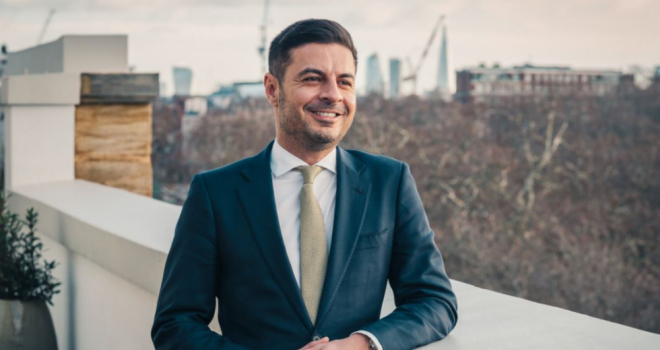 We caught up with Martin Bikhit, Managing Director at Berkshire Hathaway HomeServices.
PR: How did you get into property and what is your current role within the industry?
MB: I began my time with Berkshire Hathaway HomeServices London working at was then my family business, Kay & Co in 1997 in sales. I became a director of the business in 2000 and in 2008, I became Managing Director. I now work to foster relationships with global clients and grow our residential division and property management portfolio. I have a passion for real estate, particularly in Central London – there are so many eccentric and unique properties, some with great history and character, as well as architecturally exciting new builds.
PR: If you had to give one piece of advice to clients after the events of the past 2 years, what would it be?
MB: Do not dismiss the enduring lure of the city. During the lockdown, there was a tendency for people to move out of cities, whether that was younger people going home to family in the country, or people buying larger second homes with outdoor space. People's priorities shifted, and space became an imperative while we were confined to our homes. However, this has not been permanent and, recently, we have seen a reverse exodus. People still want to be near their office, so homes in urban centres remain a smart investment.
PR: How does Berkshire Hathaway HomeServices differ from its competitors?
MB: As the London affiliate of Berkshire Hathaway HomeServices (BHHS), one of the main advantages is that we are family-owned, but we have access to the reach of the BHHS global network – so best of both worlds. At BHHS London, you have the intimate, caring, personable benefits of being family-run, combined with the global reach of a multinational corporation.
This global connection means that our clients also benefit from affiliates sharing their homes or developments across multiple markets. Those brokers/agents receive a direct referral fee from us here in London as opposed to it being "something they are supposed to do" which is something you don't get from all other global agents.
PR: What are the main challenges facing your sector of the property industry over the next 12 months?
MB: Unfortunately, COVID-19 still looms as a challenge two years on, with new variants continuing to impact the market. While it does feel like there are green shoots of optimism appearing as days go by - including the return of foreign investment - we have to be ready for more uncertainty though we are optimistic the end is now in sight. Across the UK, there are major supply issues, as high demand coupled with a lack of housing stock means houses are essentially being auctioned off.
High demand is also driving rents and house prices up while wages stagnate, which could lead to some buyers being priced out of the medium market. What's more, further planning policy restrictions continue to threaten urban development, particularly in London. For example, the Westminster City Planning and Development Plan will cap the size of future developments to just 200 square metres per unit, which will undoubtedly impact the prime central market and limit the size of future developments.
This is likely to result in a two-tier market where larger properties will start to command a higher price per square foot due to the fact that no more can be built.
However, it's not all doom and gloom - many forecasts, including us, indicate further growth in the market in 2022, with wealthy international investors expected to return to the UK market after a hiatus during lockdowns, many opting to buy multiple homes with their principal property in London. It's important to be realistic, but there are reasons for quiet optimism.
PR: What trends can we expect to see in real estate?
MB: COVID-19 has really shaped trends in the market for years to come. Remote working has created an appetite for working from anywhere. We're seeing an increasing number of people owning homes in the city they work in but also having houses in the countryside or abroad. We have found that people with second homes abroad often want to follow the summer all year round, so there's a preference for properties in the Mediterranean or even Dubai – places where the time zone is not hugely different, but the weather is agreeable. The opportunity to have properties in multiple cities is particularly attractive in the luxury market.
The increasingly visible impact of climate change and reactive government policy will also drive change in the market. Homes are a major source of greenhouse gas emissions, so over the next few years, we'll gradually see construction adapting, with homes made from more eco-friendly materials, such as wood. We'll also see an increase in technology-enabled solutions in homes, including sensors and smart technology, that will ensure optimum efficiency.
PR: What advice would you give to someone starting out in real estate?
MB: Embrace it, enjoy it – no two days are the same. There is also nothing quite like real estate, it's exciting and you're dealing with people fulfilling their dreams. It's rewarding to be part of that moment in someone's life – homes are a source of nostalgia, they're a cradle of memories, so there's a lot of emotion attached. Real estate is also high stakes, so there is stress involved, but it's important to ride It out. A tenacious spirit also helps.