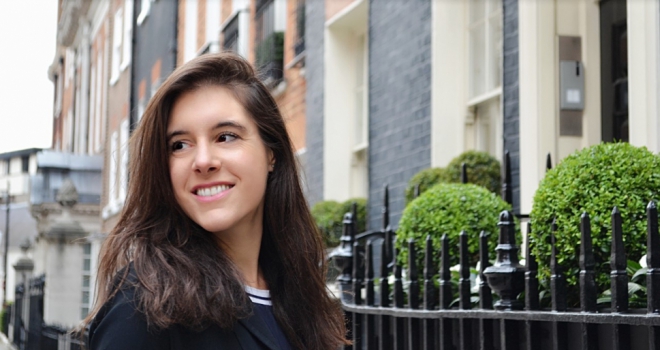 We caught with Anna Clare Harper, author of Strategic Property Investing – What works and what doesn't in a complex UK residential property market.
PR: How did you get into the property industry?
ACH: I studied at Cambridge, followed by an internship at Knight Frank where I realised that surveying wasn't for me. I then joined Deloitte as a strategy consultant, working with banks and private equity firms to deliver regulatory responses, customer retention schemes and cost reduction plans, as well as facilitating investments.
I planned to invest in property in my spare time but didn't have the capital so worked with private investors from my first deal. Some hustling later, this sideline became a boutique investment and development business, which I left the City to run. Along the way, I started hosting a podcast, to explore and share insights on real estate investing. Most recently, I co-founded and developed the strategy for Anglo Residential, a UK property fund, which secured seed capital to build a £150m rental housing portfolio.
PR: The property market is likely to look quite different as it adapts to the 'new normal', what changes do you think we can expect to see?
ACH: Covid-19 has created an immediate and unavoidable opportunity to focus on and review our understanding of risk and purpose. It is forcing a somewhat backward industry to utilise technology for efficiency gains.
On risk, it has never been more important to understand and manage the risks we are exposed to. This applies from the largest banks down to the smallest landlord.
Investors need to understand their risk preferences better to move forward safely in the short, medium and long term. There are huge opportunities and I expect this will be the case for much of the coming year, as a minimum.
For the kind of investor I typically work with, the market highlights three important benefits to 'taking the long view' in property investing:
Confidence for the future – This has been vividly illustrated by Brexit, Covid-19, and inevitably, we will see this again. Long term, resilient investments are in high demand and these can help investors feel confident in the future.
Stable value through positive impacts - Whatever happens in the finance sector - whether securing loans is easy and cheap, or quite the opposite - assets with good 'fundamentals' that deliver value to the customer (in this case, the tenant) stand the test of time.
Using new technology, for exponential returns - Just because the asset is held for the long term doesn't mean it needs to be old-fashioned.
PR: What advice would you give investors looking to break into property during the current climate?
ACH: Market and regulatory changes over the last few years have been substantial. The impact of these is being exaggerated by the current environment. The direction of change in the housing market in recent years is in favour of homeownership and more professional delivery of rental housing.
If you want to invest, it needs to be professional, and you need to understand the risks. This increasingly means partnering with the right businesses and teams and ensuring the processes are delivering value in a compliant way.
PR: Tell us about your new book
ACH: I wrote Strategic Property Investing: What works and what doesn't in a complex UK residential property market, to highlight how the fast-changing climate, market and regulatory changes have affected UK residential property investment, and to explain what investors can do about it.
For more than 20 years, property has been seen as one of the best investments. It has offered investors a brilliant way to grow their wealth safely, profitably and easily. The trouble is, the market has changed. Strategies that worked before are now less profitable, if profitable at all.
In my business, I was seeing how, to succeed in this fast-changing, uncertain context, investors needed to understand what has changed, and what works now. But in an age of 'information overload', it can be hard to cut through the noise. The book is designed to be a clear, reliable guide to what's really happening in the market, and what investors can do about it. So much has changed in recent years, and the market will continue to evolve. The book shares the information needed by investors with limited time who want to grow their wealth safely.
PR: What would you say is the biggest misconception about property investment?
ACH: Most frequently I hear people mistaking homeownership for investment, assuming the property market is one market, assuming that capital growth will continue regardless of fundamentals, affordability and potential regulatory changes, and misunderstanding the difference between forecast and actual profits.
Owning your own home, in fact, is considered by investors to be a liability, since it costs you to own it rather than delivering cash flow. The property market is not uniform: there are so many different geographies, investment types and tenant types. Broad brush statistics and forecasts should be interpreted with caution. More important is: who is going to use the property?
Capital growth is not uniform either: there are so many different determinants of historical, current and future growth. These may not always be what they once were due to factors such as affordability constraints affecting younger generations and poorer people, and regulatory and tax changes which can affect fundamental drivers of supply and demand.
Many investors get distracted by 'the promise of exceptional cash flow or infinite development profits; new ideas like Build to Rent schemes right through to crowd-funded developments. They forget about the risks. I hate to be the voice of doom but if it sounds too good to be true, it probably is.
PR: We've all had a lot of time on our hands at home recently, how have you been keeping busy?
ACH: I didn't get a lot of spare time due to the launch of my book - an admittedly ambitious lockdown project. I'm delighted that the hard work seems to be paying off.
It achieved Amazon 'Best Seller' status in Real Estate and Investing, but more importantly, I've had countless messages from readers and conversations with investors feeding back how useful they have found it.
As for actual spare time - I'm a big fan of health, fitness and wellbeing, so it's been a great opportunity to focus on this.