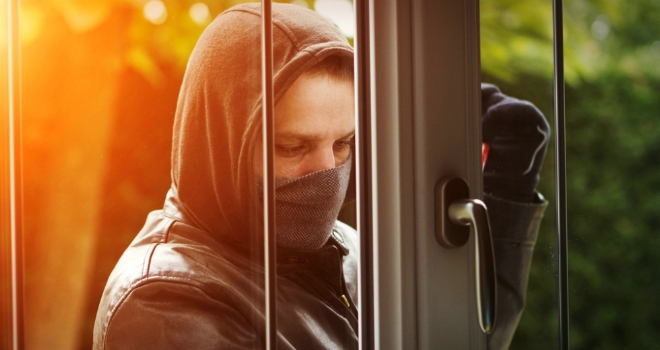 According to newly released figures from MoneySuperMarket, nearly a third of Brits do not know when their house was built - or how the age of their home could correlate to a higher chance of being burgled.
MoneySuperMarket conducted its latest research and found that houses built between 1920 and 1939 are statistically more likely to be burgled than any other type of home.
The study found that there were 31.3 home insurance claims related to theft over the past five years for every 1,000 homes built during the Art Deco era. This is almost double the rate of homes built in the 1980s (15.9 claims), which have the lowest claim rate.
But, despite insurance premiums varying according to the age of houses, the study also found that three in 10 Brits were unsure when their home was built.
Burglary rate per era:
1: Art Deco (1920-1939) - 31.3 claims per 1,000 houses
2: Georgian (1714-1790) - 30.5 claims per 1,000 houses
3: Stuart (1603-1714) - 27.7 claims per 1,000 houses
4: Victorian (1839-1900) - 26.0 claims per 1,000 houses
5: Edwardian (1900-1918) - 25.7 claims per 1,000 houses
6: 1950s - 21.4 claims per 1,000 houses
7: 1940s - 20.8 claims per 1,000 houses
8: 1960s - 17.9 claims per 1,000 houses
9: New Build (1990s) - 16.6 claims per 1,000 houses
10: 1970s - 16.1 claims per 1,000 houses
11: 1980s - 15.9 claims per 1,000 houses
The research, which looked at 1.5 million home insurance enquiries between February 2018 and January 2019, found that the greatest number of 1930s houses are found in Birmingham, while Harrow and Manchester are other popular areas for buildings from the era.
The price you pay for your insurance is affected by a range of issues, including the condition of the building, and homes built before 1700 were found to have the highest average annual premium at £323. Those built in the 1930s may have been found to have the highest rate of theft claims, but they cost less than half that amount to insure, at £162. Houses built since 2010 have the cheapest home insurance rates, costing £130 on average.
Helen Chambers, head of home insurance at MoneySuperMarket, commented: "To help reduce the risk of burglary, we recommend investing in security measures such as alarms or CCTV. While there is an initial cost to this, not only will it decrease the likelihood of theft, but it can also help to lower the cost of your insurance.
When searching for home insurance, the most important thing is to ensure you answer all questions to the best of your knowledge, so you can get an accurate quote and the best deal available for your needs.
We'd also recommend shopping around before renewing, as you could save up to 43% on your home insurance."