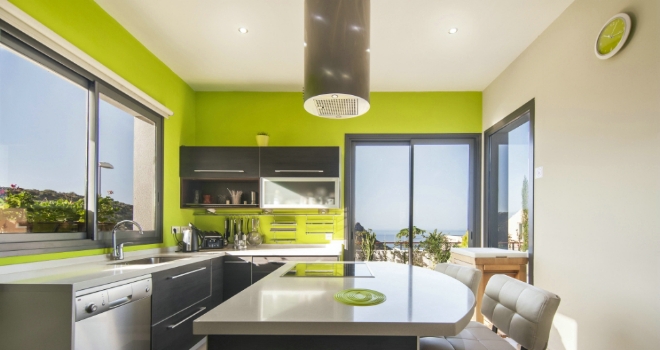 "The kitchen is certainly a focal room which people are now utilising for more than one purpose. In doing so, homeowners are looking for a kitchen that is stylish, modern and highly functional. "
Housing agents Sellhousefast consulted 34 different estate agents, property professionals and designers from across the UK to find out how homeowners can maximise on the value of their property when carrying out kitchen improvements/renovations.
Spacious and modern storage units (72%) were cited as the feature which adds the most value to a kitchen, closely followed by fitted energy-efficient appliances (66%) and then, durable and stylish worktops (60%).
The lowest ranking feature to add value to a kitchen is the use of light/soft colour paint for walls and ceiling (35%).
The majority of experts did agree that homeowners should aim for a combination of these kitchen features, rather than just striving to have a specific one, for it to really boost a property's value.
Robby Du Toit, managing director of Sellhousefast, commented: "The kitchen is certainly a focal room which people are now utilising for more than one purpose. In doing so, homeowners are looking for a kitchen that is stylish, modern and highly functional. This research certainly demonstrates there are various aspects which homeowners need to get right when renovating their kitchen. Some obvious, whilst many others a revelation. The great takeaway from the consulted experts is that lavish and over-the-top additions are not needed to enhance the condition and aesthetics of a kitchen."
Craig, a property consultant from London, said: "With a kitchen renovation, think about what buyers/renters want from a kitchen. They prioritise on safety, so make sure all integrated appliances are from reputable brands and fitted by professionals. Get lighting which creates an atmospheric ambiance. The more storage the better, so make full use of the layout to accommodate as many sufficiently-sized storage units as possible. Also keep in mind distinct features such as a splashback, which will protect walls from oil and grease when preparing/cooking food."
Barry, a freelance designer from Liverpool, added: "If you're making changes to your kitchen for the sole purpose of adding value to the property, then my recommendation would be to make subtle and simple changes. Not only will it be cost-effective, but a simple style will speak to most homeowner's when choosing a new property. If the storage units are old and worn-out, replace them with spacious and slick storage units. With regards to the walls, either go for a soft colour or a vibrant set of tiles to give the room a mellow and welcoming feel. If worktops are extensively damaged, then go for a work surface which is made from a durable material such as quartz, granite or corian."