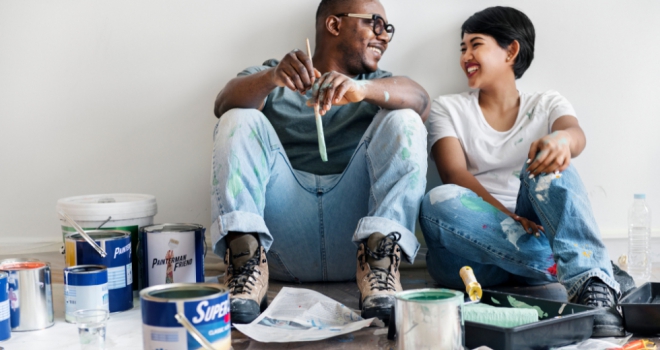 Us Brits love a bit of DIY. Any given bank holiday, in between complaining about the weather and destroying sausages on a BBQ, we can usually be found in the aisles of hardware stores or up a ladder at home fixing something.
And as Britain's aspiration for a property project continues to boom, new analysis from national estate agent, Jackson-Stops, finds that a massive 81% of British buyers would purchase a home in need of renovation as opposed to somewhere you could just walk into.
The number of respondents in London prepared to purchase a property in need of home improvements rises to 85%, whilst just 5% would only move into a property if it required no work at all. The number of respondents from across the country looking for a home with no work needed rises to 9%.
The findings come at a time where Hiscox has reported a 29% rise in the number of planning permission requests made by homeowners to local councils in the last 10 years. According to the Jackson-Stops research, 39% of British buyers would purchase a home in need of a new kitchen or bathroom installation, whilst an impressive 42% would be prepared to undertake a major renovation project such as structural alterations or a large extension.
The survey also analysed respondents' top features from their dream home, providing insights on the most beneficial renovations to make to a property. Unsurprisingly, the research found that the kitchen is still the heart of the home, with nearly half of British respondents stating having space for a family size dining room table was the most important feature to include in their dream kitchen. However, in London where space is at a premium, respondents favoured integrated appliances over a spacious kitchen area, with the dishwasher ranking as Londoners' most important feature to include in their ideal kitchen. Meanwhile, the Aga ranked as Britain's third most important feature to find in their perfect kitchen whilst only 2% of respondents ranked the breakfast bar as essential, ranking this as the least favoured feature. Interestingly, double the percentage of London respondents in comparison to respondents from across the country ranked a dedicated wine fridge as their most important feature to include in their dream kitchen.
When considering the configuration of their perfect home, 64% of British buyers desired an open plan kitchen and dining area, with a lounge positioned separately. London homeowners considering building an en-suite to accompany their master bedroom may not reap the rewards, with only 29% of London residents stating it was of vital importance that their master bedroom has an en-suite. However, this figure rises to 43% when analysing the responses from across the country. Those looking to install kitchen gardens may also want to reconsider, with only 12% of respondents stating they'd prefer this type of garden in their dream home.
Nick Leeming, Chairman at Jackson-Stops, comments: "It is no secret that the British public love a renovation project, but our latest research shows a staggering 81% of buyers are willing to purchase a home that requires considerable work. Whilst appetite for home improvements has always been strong, this may very well be heightened by uncertainty around Brexit and high stamp duty costs. These factors could be encouraging buyers to purchase homes with the view to make a profit on renovation works, which would hopefully offset future stamp duty costs, or with the plan to stay put for longer by expanding the residence.
Purchasing a property project offers buyers the unique opportunity to create a home that suits theirs and their families exacting needs, whilst traditionally paying considerably less for the end result. Those looking to embark on such a project should take their time in finding the right home to avoid overspending on unforeseen issues. In addition to considering stamp duty and legal fees, buyers in this position should also account for the cost of architects and structural engineers.
A hot tip is to check whether previous owners have applied for planning permission for home renovations before and whether this was granted or has lapsed. Those looking to sell their home with planning permission for improvements will find this adds a significant premium to the property, as this allows the buyer to start creating their dream home from day one, which is an undeniable bonus."