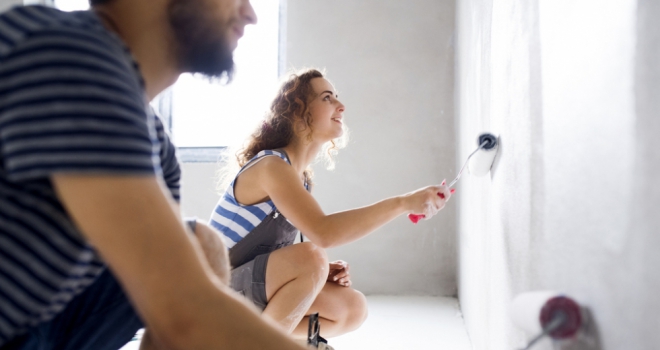 The latest data released from Post Office Money has shown that homeowners collectively spent £295bn renovating their homes in the last five years and increasing the value of their property by as much as £40,000.
According to the research, 64% of Brits made some sort of improvement to their home with an average spend of £14,015. Despite the number of homeowners making improvements dropping by 10% since 2016, the amount spent per home has increased by 16% from £12,000.
Those who have made changes to their home estimated that the improvements increased the value of their property by £40,000, from an average of £210,000 before the improvements to £250,000 afterwards.
Analysis based upon the median asking price of a three-bed semi-detached home in the UK (£286,000) found that homes with improvements such as a new kitchen, garden landscaping, extension or walk-in wardrobe were on the market for more than 10 per cent higher than the median asking price.
Chrysanthy Pispinis, Post Office Money, comments: "Over the past few years, house price growth has slowed, so homeowners have turned to other options to add value to their homes – with renovations being a clear opportunity. Making the right changes to your home can increase its market value significantly; if improving your home's asking price is your priority, it's important to keep in mind the cost of the improvement and the value it could add."
While only 5% of those surveyed made improvements to their home with the express intention of moving, one in four improvers (28%) did so because they thought it would be a good investment and would add value to their property. The most popular reason for making home improvements was to improve the look of a home (59%).
Over the past two years, house price growth has slowed in much of the country, however only 5% of homeowners said they had recently put their plans to move on hold due to changes in local property prices, and only 7% said it was due to wider economic uncertainty.
In order to fund these renovations, three quarters (74%) of homeowners used their savings to fund their renovation, one in five (18%) used a loan or credit card, while one in fifteen (7%) used equity release or mortgages to fund their improvements.
Chrysanthy concluded: "Home improvements are not all about making changes which add value for re-sale; 63% of the homeowners we polled had no plans to move. Renovations allow homeowners to create homes that reflect their needs and tastes, with the potential added benefit of adding value in the long term."