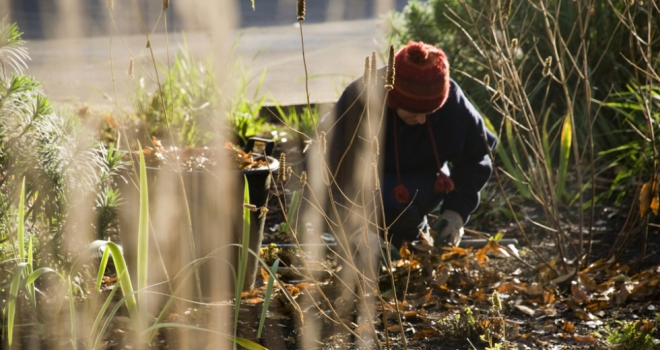 With the clocks turned back and the evenings growing darker, at this time of year the focus tends to be on the inside of our homes rather than our outside spaces. And with predictions of harsh weather on the horizon, it's important to prepare, including keeping your garden in check.
Online estate agent, Housesimple, share their top tips so everyone - even the less experienced gardener amongst us - can prepare and maintain our garden this winter.
Protection, protection, protection
During winter, it is vital to weatherproof your garden with adequate protection. By simply potting vulnerable plants and taking them indoors, storing them in your shed or wrapping them in bubble wrap, you can help protect them and their roots against frost and keep them safe. Adding a twine or a support system can protect your plants and small trees against the wind while putting garden furniture into storage or covering them with plastic will also ensure that they aren't damaged during harsh conditions.
Choose your plants wisely
All plants are different, and the temperature has a different impact on certain plants during winter. Choosing the right plant is key, and plants like tulips and daffodils will only flower in the spring. However, plants like heather and pansies do well all year round. Edible plants such as cabbage, watercress, beetroot, and other hearty specimens are perfect to grow through winter months as well. So, if you want an all-season garden, ensure you select the right plants.
Look after your soil
If you are green-fingered, you know that the winter months can be damaging to your soil. However, there are several different ways to maintain your soil. Having raised flower and plant beds can provide you with maximum space and more control during the winter months. Checking your soil's pH levels is crucial, especially if you're a regular compost user. Compost gradually increases the acidity of your soil and can throw your levels off, so adding lime in the winter might be recommended. Using mulch can also help keep your soil warm and moist by acting as an insulator for your plants.
Keep things clear
During the autumn and winter months, there is a lot of fallen leaves and garden debris. But by regularly cleaning pathways and garden spaces, you can keep areas clean and accessible. However, don't bin these, leaf matter can be composted and used on the soil once spring arrives.
Look after wildlife
Everybody's garden is a mini eco-system and it is important to look after and support this, especially during the colder months. Leave out feeders for birds and ensure that they have birdbaths available, and make sure that ponds and water features aren't frozen over - you'd be surprised at how many animals will use them as water supplies. If you have a bonfire or fireworks display, make sure that there aren't any animals hibernating nearby
Sam Mitchell, CEO at Housesimple adds: "It's important that even during the winter months, gardens are maintained. We still find that house buyers are scoping out properties during the colder periods - and a messy garden can be a real put off.
There is no guarantee that your garden will be beautiful all year round, and it can be time-consuming, but you can keep it alive and looking good with a little bit of prep. Investing in your garden can raise your property's value by an average of £2,500 so why not cash in on your properties hidden value."