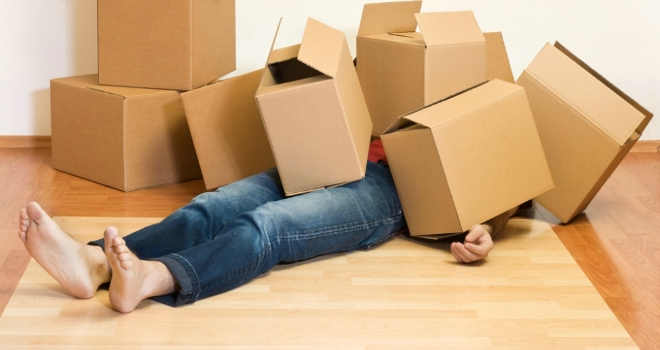 Stacks Property Search, has some top tips to ensure your move goes as stress-free as possible:
1. If you're renting, you're in a strong position. Keep the rental property for an overlapping week (or as long as you need/can afford) to make the process deliciously smooth.
2. There's an idea that moving on a Friday is a good idea, but we think Tuesday is the best day, especially if you have young children. Take Monday, Tuesday and Wednesday off work, giving you Saturday, Sunday and Monday to get ready; move on Tuesday; then Wednesday to straighten things up while the children are at school. The weekend's not far away for a final push. The good news is that removal firms generally charge less for a Tuesday, Wednesday or Thursday move.
3. Spend several months pre-move having your children's friends to stay, so you can call in all sleepover favours over your moving period. Farm out children, pets, or any other member of your family who won't be a positive asset to the process.
4. Don't even think about packing the contents of your house yourself. Look at the removal costs as part of the big picture and get the pros to do as much as possible. (You will of course already have de-cluttered and dispensed with anything that, in the words of William Morris, 'you do not know to be useful or believe to be beautiful').
5. If you find you are moving a box that hasn't been opened since your last move – now is the time to get rid of it!
6. Use your pre-move time productively by obsessively labelling boxes with their contents AND which room the box should go into on arrival in its new home. Use as much colour coding, labelling, post-it noting and organisational brilliance as you can muster.
7. If you're downsizing, build in as much time as possible between exchange and completion to give you adequate opportunity to dispense with the possessions you will no longer have space for.
8. Not all removal companies are the same (or charge the same). Personal recommendation is generally best, but social media is extremely helpful for finding the best suppliers of this kind of service. Get quotes from, and meet, three companies before you make a final choice.
9. It's better to find a removal company that is local to your new home than to use one in your existing area. You should be able to advise them about local access and parking issues at your existing home, and they will have a good understanding of any problems in your new area.
10. If you're moving out of London, bear in mind that London removal companies charge like angry rhinos as soon as they see a postcode outside the M25. And if you're moving down the road, don't be tempted to do it yourself – it's no easier to move 300 metres than 300 miles, so grit your teeth and get over it!
11. Check and double check access. Several smaller vans are more flexible than one big one, but it will cost more. If you're relying on on-road parking space for the removal van, speak nicely to your new neighbours before putting some cones out.
12. Take a picture of the metres at your old home as you leave the premises, and the new ones as you cross the threshold. That way, arguments with utility companies are easy to resolve.
Finally, stay calm, and try to see the funny side if things don't go according to plan. The chances are you will be gaining anecdotal entertainment on which you will be able to dine out."