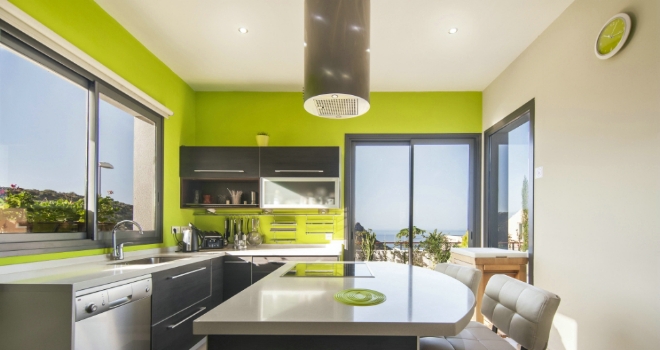 You'll always find me in the kitchen at parties. It is the heart of the home, the central hub of family life and according to new research from kitchen retailer, Kutchenhaus, 68% of us hate it.
According to the research, many admit they don't update this room as regular as they would like to due to the fact they simply can't afford their dream kitchen. 26% of homeowners stated, one of the main reasons they hate their kitchen is because it's too dated, and 15% don't like the style.
Many people will be looking to update their kitchen in 2020, so Kutchenhaus have revealed their top five tips to save you money when you decide to update and renovate:
1. Spend your money smartly
Decide what is essential for your dream kitchen. By ranking every factor, you will know what you can splash money on and where you can cut back. For instance, handleless kitchens are on trend and a much better alternative to costly chunky handles, freeing up more budget for your dream features.
2. Do your research
The cheapest kitchen may not be the best value for money. For example, all your requirements may not be met or, the quality may be reduced and the kitchen units won't last as long.
3. Be clever with your space
Making use of your existing kitchen space can resolve many frustrations. For example, knocking down a wall could add extra space for kitchen storage or a utility room. There are also lots of clever kitchen storage ideas such as revolving carousel shelves and swivel tables!
4. Visit a showroom
By stating your vision and budget, expert kitchen designers at your local showroom can help you visualise your dream kitchen by creating a render. They can also offer advice on how to save money without affecting quality. For example, choosing a high-quality laminate worktop can offer a huge saving over solid surfaces and matching nice classing can save you hundreds compared to tiles!
5. Appliances
You can save lots of money when choosing your appliances. Many of the leading suppliers produce an alternative brand at a cheaper price. For example, at Kutchenhaus we offer our own label brand called Progress, which is extremely popular with savvy customers!
Sean Ford, national head of sales and operations for Kutchenhaus, said: "When purchasing their dream kitchen, people often get carried away and make costly mistakes that make the job much more expensive than it needs to be.
"Our tips hopefully provide expert guidance on how to achieve your dream kitchen while leaving a bit of extra money in your pocket!"