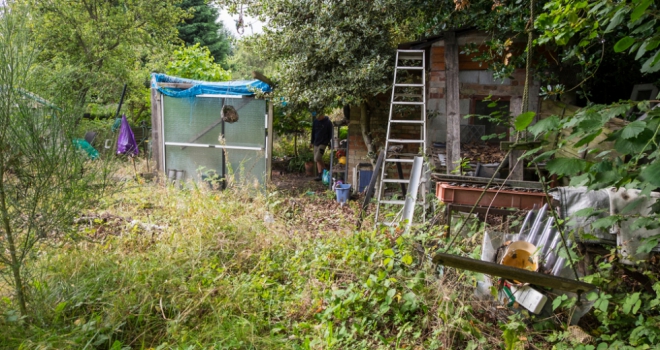 The latest research from Ryobi has revealed that although we are a green-fingered island of garden lovers, we appear to be utterly useless at it.
The power tool manufacturer has revealed that gardening disasters plague around three quarters (73%) of Brits and prompted the firm to launch a search for the nation's ugliest garden.
According to ot the findings of their survey, disasters range from not being able to get plants to grow (14%) to forgetting to water plants (10%), as well as physical injury (9%), insect infestation (8%) and pets digging up the lawn (7%).
An increasing number of Brits have been tending to their gardens during lockdown, but this may not have been possible for everyone. Ryobi are on the search for the most neglected garden and help the owner get it in tip-top shape with over £1,000 worth of Ryobi garden tools including, the brand new 18V ONE+ 40cm Brushless Lawnmower, the 18V ONE+ 45cm Hedge Trimmer and 18V ONE+ 30cm Brushless Chainsaw, giving them the opportunity to bring their outdoor space back to life.
The survey also showed that those aged 25-34 are the least competent in the garden and the age group most likely to have had a gardening disaster (87%). Over 65s, on the other hand, are the most green-fingered age group, with nearly two-thirds (62%) admitting they've had a gardening disaster.
Insects and pests are the biggest burdens among 18-24s, with 33 per cent citing being bitten as their biggest fear in the garden. It seems this fear dwindles over time, with over 65s the least bothered by garden pests (9%).
This will be the second year Ryobi has launched its garden disasters competition, with Simon Matthews from Stoke on Trent, the 2018 winner.
Thomas Leather, Marketing Manager for Ryobi, had this to say: "As a nation, it's clear we're guilty of some pretty poor gardening habits that have led the majority of us to experience some form of garden disaster. We're on the hunt for the ugliest gardens in the hope that we can help fix a multitude of gardening sins and turn someone's outdoor space into a place that's enjoyable again."
The research marks the launch of Ryobi's search to find the nation's worst gardening disasters. Anyone with a garden they're ashamed of or that's in need of some TLC can upload a photo of it here before 20th July. The entries with the most votes will then be shortlisted and presented to our esteemed judging panel.
The winner will be announced at the end of July 2020.