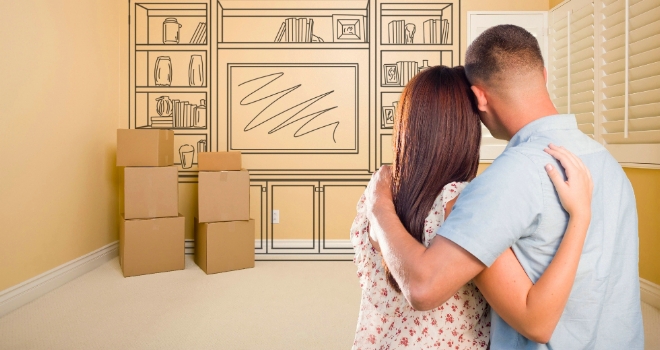 New research released by flatsharing experts, Weroom, has revealed that among the thousands of people across the country who will move out of their family homes for the first time, a quarter (24%) will be put into debt.
44% of Brits underestimate how expensive moving out will be and struggle to make ends meet, with a third (36 per cent) citing the cost of moving as the biggest shock after leaving home.
On average, we are hit with costs of £540 when moving out of home for the first time, while Londoners are hit with a higher average cost of £638 to fly the nest. Property security deposits (39%) and furniture (10%) were revealed as some of the most expensive outlays. 15 per cent of us spend almost double the average, revealing they spent over £1000 when they first moved out.
It is not just young people who shoulder the financial burden of leaving home. 37% of Brits borrow from family members to afford their first time move, with Bank of Mum and Dad (30%) taking the biggest hit.
A fifth (18%) of renters turn to overdrafts or credit cards when flying the nest, while one in ten (9%) borrow money from banks and pay day lenders to fund the move.
Moving into flat and house shares, where living costs can be shared, is the most cost effective way of moving out for half of us (50%). When furnished rooms and well-stocked fridges at home are left behind, first time movers feel the pinch and the everyday items that we take for granted in our family homes are an unexpected expense for a quarter (23%).
Over half of Brits (57%) admit to not appreciating how much their family did for them until they moved out. Indeed, we are so used to relying on home comforts that we forget to buy goods such as bottle openers so we can toast to our new digs (11%) and basic medical supplies (9%) for new homes.
Other common items that are forgotten when flying the nest include light bulbs (9%), coat hangers (9%) and toilet paper (7%).
Most forgotten items when Brits fly the nest
1 Bottle opener (11%)
2 Basic medical supplies (9%)
=2 Light bulbs (9%)
3 Coat hangers (8%)
=3 Cleaning products (8%)
4 Loo roll (7%)
5 Milk and tea bags (6%)
=5 Frying pan (6%)
=5 Cutlery and crockery (6%)
6 Important documents (5%)
Thomas Villeneuve, CEO of Weroom.com, said: "Many of us live a sheltered life until we fly the nest so it's not a surprise that we feel unprepared when first move out. The current housing crisis means that the financial implications of flying the nest are starker than ever, with a worrying trend for young Brits getting into debt to afford to live independently. Living in house and flat shares allows renters to share the financial responsibility of running a home and provides the social support of a family home. At Weroom we do all we can to protect renters and their finances, and make the renting experience as easy and fun as possible. We pride ourselves on matching likeminded flatmates and our online booking platform means renters can rest assured their security deposits are safe until they move in."