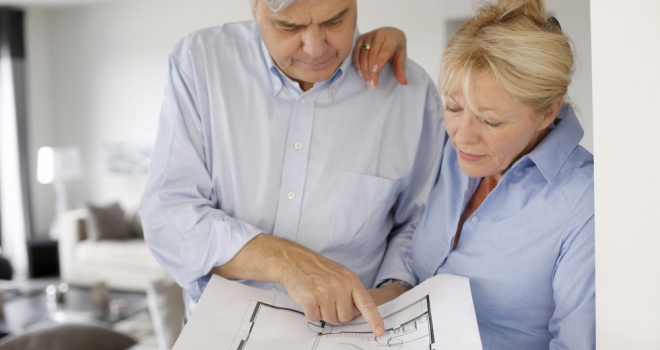 John Evans, managing director at Stormclad said: "Making home improvements is one of the easiest and surest ways to add value to a property. This can be anything from essential maintenance repairs to installing new windows and doors, to creating entirely new spaces through extending and adding new rooms. With many of us finding ourselves with additional free time, now is the perfect opportunity to start making improvements and planning home enhancements to get going with as soon as possible.
"We've put together a list of some of the best home improvements that you can make to add long term value to your property."
1. Make your home as energy-efficient as possible
With energy prices constantly on the rise, an energy-efficient home is of great interest to buyers and can mean a huge difference in the value of your home. Many older homes don't benefit from the same level of insulation as modern homes, so it's a good idea to look into ways to improve energy efficiency to add value to a property. Start by looking at your windows, they should be double glazed as standard, and other features for increased efficiency include choosing windows that are A+ rated, with a metallic coating which reflects heat back into the room. Panes filled with argon gas also have a 34% lower thermal conductivity to air, keeping in the heat.
2. Maximise space
A single-storey extension, like a solid roof conservatory or a glass panelled orangery, is a safe way to add value to your home, and can increase the sale value by around 6%*. Extra space can be utilised for a range of purposes, for example; a home office, playroom or dining room.
Conservatories have evolved in recent years – no longer do we see cheap polycarbonate plastic roofs and panelling. Sleek glass roofs and skylights provide bright, sophisticated extensions which connect the indoors to the outdoors. Often these extensions will not require planning permission, so they can easily be designed and installed.
Currently, installations cannot go ahead right away, but home improvement centres are still operating remotely, so you can still have initial discussions about planning and quotes for extensions.
3. Install a carport
A much cheaper option than a garage, a carport provides a sheltered parking space that is still on the property. Parking is often a key factor for prospective home buyers, so not only will it increase the value of the home, but it will also generate more interest when the time comes to sell.
If you're unsure if you will have room on your property for a carport, get in touch with a home improvements company who will be able to assess your home free of charge.
4. Open up your living space
To open up homes to the outdoors, letting in natural light is a great way to give the impression of a larger, less restricted space. Installing long glass patio doors such as bi-fold or sliding doors can modernise your home, connecting it with your garden and bringing a space to life. There are plenty of options available in terms of bifold doors, and the Stormclad team can put together a free no-obligation quote with just a few images of your home.
5. Think kerb appeal
Have a gate that doesn't lock properly, a peeling front door, or a faded fence that is falling down? The aesthetic of your property is so important to consider, especially if you are considering selling in the near future, so consider how to improve your kerb appeal and make the necessary repairs and replacements. A new front door will give your home an instant makeover, and a fresh lick of paint to the exterior walls and fences can really help to ensure a property appears in top form.
6. Find a place for everything
It's important to ensure that all of your belongings have a place to go to ensure your home is clutter-free. This might mean building a few extra storage units inside or converting an existing space into storage such as your porch or under the stairs.
A home will be of more interest to buyers if you're thinking of selling if they can imagine their belongings in place of yours. Extra storage will also reduce the amount of clutter lying around the property, making your home appear cleaner and more modern.