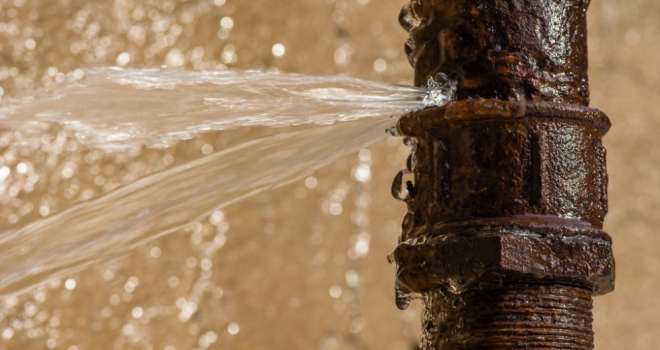 As average insurance claims for escape of water cost £2,638, leaking toilets and taps are not only responsible for huge water loss, but also large amounts of money.
According to new figures released by HomeServe Labs, 43% of domestic properties in the UK have suffered water leaks.
For those who are concerned about the environment, potential water damage to their property and the rising cost of water bills, it was found that the average flow rate for a domestic property with an active leak is 20.63ml per minute, which amounts to 30 litres of water wastage per day if left unrectified. This amounts to approximately one fifth of the average domestic water usage per person per day. Over a year, this can escalate to a whopping 10,843 litres.
LeakBot is a smart water leak alarm which identifies leaks, alerts customers of problems via a mobile app and then provides a 'find and fix' service where an engineer can be called out to resolve the problem. Water damage is the second biggest driver of home insurance claims and LeakBot has been designed to help protect against this peril. Since launch, HomeServe Labs has formed partnerships with a number of the UK's major home insurers to offer LeakBot to customers, including Aviva, Neos, RSA, Hiscox, Legal & General and Covéa Insurance.
From a sample of repairs conducted by LeakBot engineers in homes across the UK, it was found that most repairs were needed on leaking toilets (45%) and leaking taps (28%).
Craig Foster, CEO HomeServe Labs said: "The amount of water being wasted by domestic leaks is significant and concerning with potentially damaging implications for both the consumer and the environment. Small leaks might not seem like much, but they can quickly become big problems. Water damage is not only expensive – average claims for escape of water are around £2,638 - but also damaging to housing infrastructure and the environment. The Head of the Environment Agency recently issued a warning about the need to reduce water usage by 40 litres a day to avoid a catastrophic water shortage within 25 years.
The risk of damage from hidden water escape is huge, particularly as more and more homeowners are opting for new design features such as underfloor heating and concealed toilets. These leaks become harder to spot and have the potential to cause serious damage if left undiscovered over a long period of time.
As such, it's important for consumers and businesses to make changes, become more efficient and protect themselves from massive disruption and financial burden. Homeowners today can benefit from investing in the latest connected home technologies such as LeakBot that can help prevent leaks happening, or at least alert owners of small leaks before they escalate. End-to-end service systems also need to become the norm – as soon as a leak is detected this system should enable users to call a professional technician at the touch of a button so that they can find and fix the located leak.
That's why we're partnering with major insurers across the UK to offer the LeakBot to their customers to help fix the problem quickly to reduce insurance claims."