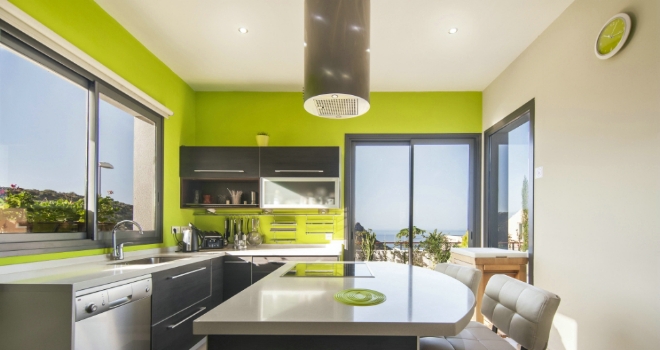 A new survey of more that 7,500 UK respondents from Houzz & Home UK has revealed that spend on kitchen renovations grew by 11 percent in the past year to a median spend of £10,000.
Median spend on bathroom renovations also grew by nine percent, to a median spend of £4,350 in 2018.
Overall, renovating activity remained strong through 2018 with more than half of homeowners on Houzz renovating (57 percent) an average of three rooms per project, at an overall median spend of £18,000. Baby Boomers (ages 55-74) and Gen Xers (ages 40-54) combined represent three quarters of the renovating activity (74 percent), at a median spend of £20,000 each. Similar to expectations from previous years, 46 percent of renovating homeowners planned to continue or begin renovations this year, with 42 and 29 percent of Gen Xers and Baby Boomers, respectively, anticipating new projects.
Nino Sitchinava, Ph.D., Houzz principal economist, had this to say: "Despite a number of headwinds for the global and national economy, renovation activity continued to keep pace in 2018 and is building on a strong momentum in 2019. Pent up demand continues to drive renovation activity, while spend on discretionary projects such as kitchens continues to grow, fueling home-related investments."
As homeowners consider whether to renovate their current home or to purchase a new home, the top two considerations for renovating are to stay in their current home or area, outranking return on investment. Wanting to stay in the current home is the biggest decision driver for Baby Boomers and Gen Xers, whereas Millennials (ages 25 to 39) chose to stay in their current home and renovate because it was more affordable than moving.
Funding Renovation Projects
The majority of renovating homeowners pay for renovating using cash from savings (80 percent), followed at a distance by credit cards, excluding store-specific credit cards (18 percent), and cash from a previous home sale (16%). Interestingly, reliance on credit cards is higher in Millennials than in older generations.
Finding the Right Professional for the Job
Nine in 10 renovating homeowners hired a professional in 2018 (92 percent), with electricians, plumbers and carpet and flooring pros in greatest demand (61, 54 and 44 percent, respectively). While Millennials are more likely to hire professional help than Baby Boomers (93 versus 91 percent, respectively), the gap is surprisingly narrow.
Making "Smart" Decisions
One in eight homeowners prioritise smart technology during home renovations (13 percent), purchasing products like home assistants, streaming media players and thermostats. Millennials are more likely than Baby Boomers or Gen Xers to rank smart technology as a high priority (16 percent versus 13 and 11 percent, respectively), with more than a third of Millennials incorporating home assistants (37 percent), compared with one in five Baby Boomers (23 percent).
Improving Energy Efficiency
While improving the design and functionality of a home are the top priorities during renovations, two in five homeowners prioritise energy efficiency (40 percent), replacing windows and insulation, for example. This is particularly important for Baby Boomers and Gen Xers when compared to Millennials (48 and 40 percent versus 29 percent, respectively).
The Final Touch
The majority of renovating homeowners in 2018 also decorated or furnished their home the same year (76 percent). Millennials were significantly more likely to decorate following home renovations than Baby Boomers (84 versus 72 percent), purchasing products such as large interior furniture and lamps.