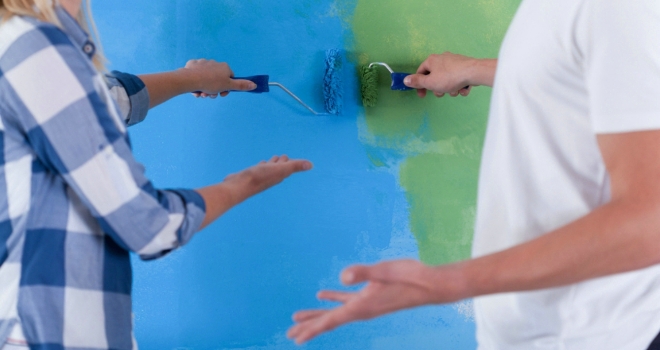 New research from loans specialist, Norton Finance, has revealed that while creating a home that you really want to live in is a priority, Brits are not especially keen on completing any outstanding DIY jobs themselves.
According to the survey, 65% of British homeowners are more interested to spend their cash creating homes they really want to live in. Just over one in ten (12%) in comparison say increasing their home's value is their top priority.
To build on their 'homely' touches, 73% said they revamp their homes at least once a year, with 11% refreshing their rooms and gardens at least four times annually.
However, building comfort still requires a significant investment. The average homeowner surveyed said that they expect to pay more than £29,000 (more than the average household income of £27,300 to decorate and renovate their way to their ideal home.
Building comfort and happiness into the home was found to be a particular priority for women. One in three women surveyed said the main reason they looked to improve their home was specifically to make themselves happier, an answer given by 15% of men in comparison.
When asked how long it took them to complete minor, everyday fixing tasks, 63% said they would ignore these jobs for at least a month before addressing them. 18% meanwhile would avoid the tasks for at least six months.
Looking at factors which prompt people to crack on with DIY tasks, over a third (35%) of men surveyed said pressure from their partner spurred them on to complete jobs, in comparison to one in ten (11%) women.
Paul Stringer, Managing Director of Norton Finance said: "For many people, purchasing a home is the biggest investment they will make in a lifetime. Continued further investment – of both time and money – is also needed to maintain a great living space for ourselves and our families. With another summer season here, home and garden improvements more readily spring to the front of our minds. However, prioritising tasks and managing budgets can be a challenge.
As a solution, Norton Finance has launched a home refresh guide for those embarking on projects across their properties, detailing how to manage these tasks and the costs associated with them. We hope this provides guidance and inspiration for homeowners across the UK."
Norton Finance's guide to home refreshing and an infographic revealing renovation and decoration trends among British homeowners can be found here