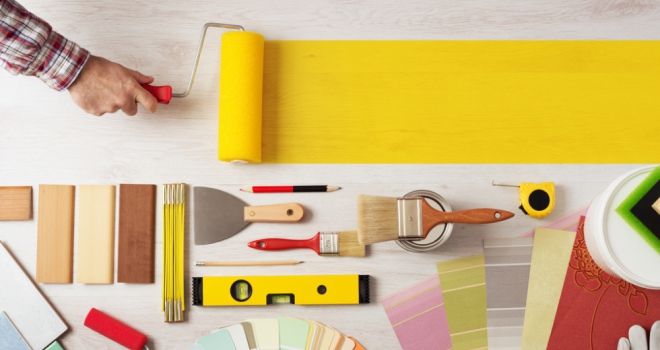 With growing house prices making it increasingly difficult to move up the ladder, nearly three in four (73 per cent) homeowners have made improvements to their properties over the past five years. The most popular changes are redecorating (73 per cent), landscaping the garden (54 per cent), adding new flooring (39 per cent) and refreshing the bathroom (31 per cent).3

One in ten homeowners who have made improvements, did so because the cost of moving was too high. However, home improvements don't come cheap; adding a new kitchen sets doer uppers back by £5,016 on average, installing a conservatory in search of a warm garden refuge typically costs homeowners £4,310 and extending into the loft or basement comes with a £3,244 price tag attached.

The majority (61 per cent) of those who have made home improvements did so to improve the look of their home. For a quarter (25 per cent) they thought doing up their property would be a good investment and add value. A further one in four (24 per cent) bought a doer-upper on purpose, with the intention of making improvements, whereas one in eight (13 per cent) needed to create more space.

With the cost of living on the rise, not all homeowners can undertake the improvements they want to immediately. Two fifths (39 per cent) of UK homeowners want to redecorate in the future, and a quarter (28 per cent) wish they could add a new kitchen. Some have more ambitious aspirations; six per cent want to build home-gym, a further six per cent want a home cinema and four per cent hope to install a swimming pool one day.

Mark Hayward, Chief Executive, NAEA Propertymark, says:
"There are many reasons why homeowners are improving their property – whether it's because they have realised the value and sale potential it can add, or they cannot afford to move and are looking to make the most of what they've already got.

"Your house will almost certainly be more attractive to buyers with some general sprucing up and cleaning, and improvements that create a sense of space, privacy and give a great first impression will increase saleability. If you're making improvements to add value to your home, it's important to not over-personalise the décor so it appeals to future buyers, and will allow them to adapt the property to fit their own needs."