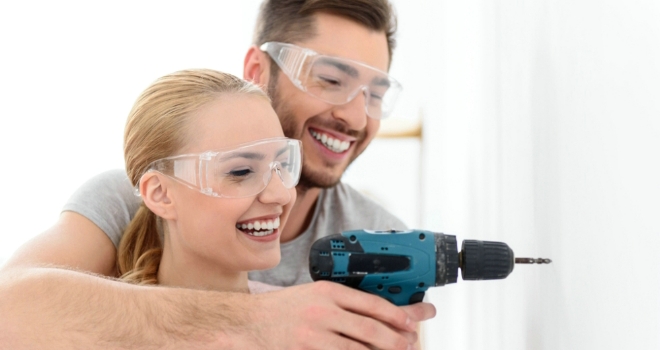 We are certainly a house proud nation. Our homes are our castles and we're always looking for ways to improve them.
However, a new poll has revealed that young homeowners aged between 18 and 34 may be trying to take on too much, admitting to trying to tackle an average of seven DIY jobs at once.
The research carried out by the home improvement specialist, Anglian Home Improvements, found despite 25-34-year-olds having several DIY jobs on at once, they struggle to complete the small projects due to lack of time (41%), enthusiasm (36%) and money (29%).
In contrast, the older age groups prefer to focus more on tasks with 35-44-year-olds and 44-54-year-olds taking on, respectively, just three and four projects at once.
The top 15 jobs currently on Brits' DIY lists are:
1. Marked walls
2. Stained carpet
3. Peeling paint
4. Un-hung picture
5. Worn away/missing grouting
6. Squeaky floorboards
7. Mould
8. Peeling wallpaper
9. Leaking/dripping taps
10. Blown light bulb
11. Cracked/missing tiles
12. Broken toilet flush
13. Hole in wall
14. Broken lock
15. Loose/exposed wires
Younger homeowners are not only undertaking more DIY tasks than their older counterparts, but they also spent over £200 more on home improvement projects in the last twelve months, compared to the national average (£561.48 vs £357.75).
Costas Kariolis, Commenting on the findings, Head of Digital Marketing at Anglian Home Improvements, said: "It's really positive to see that so many homeowners are currently improving their homes and undertaking smaller DIY projects. With the good weather and upcoming bank holiday next month it's an ideal time to be getting on top of the odd jobs around the home. Our advice for homeowners would be to not take on too much at once and try to focus on completing one project at a time."