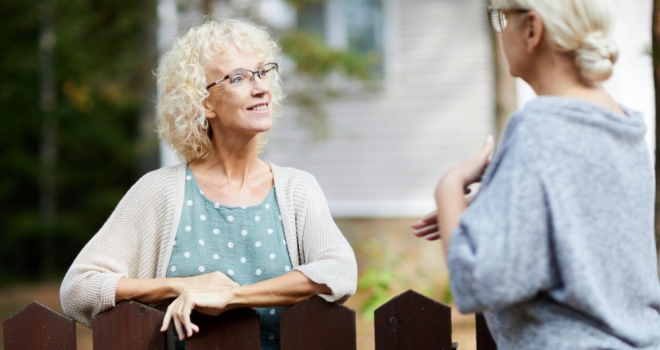 According to the song, everybody needs them. And this certainly appears to be the case as new research from Halifax reveals that 36% of Brits are now feeling a greater sense of community with their neighbours since the start of lockdown.
The new survey from the lender revealed that communities coming together weekly to Clap for Carers has led to people feeling closer to those around them.
People living in detached houses have felt the greatest increase in ties to their community and neighbours (43%), followed by those in semi-detached houses (41%), bungalows (36%), terraced houses (31%) and flats/apartments (26%). People aged 55 and over are also more likely to have noticed an improved sense of community (38%) compared to the younger generation of those aged 18 to 24 (31%).
This positive trend is seen despite two-thirds of Brits living through the Covid-19 lockdown in a home without a dedicated space to work or study, rising to 70%, for those under 25.
Some people are also living with minimal outdoor areas of their own. The survey found that 8% are seeing out lockdown in a property with no outside space or garden. A further 14% either share a garden or outdoor space and 7% have a balcony or terrace.
Whilst the type of home has been no barrier to adorning windows with rainbows, and other cheerful decorations for the NHS, almost a fifth of Brits surveyed for Halifax, in partnership with YouGov, are seeing out lockdown in a flat (18%), and a further fifth (22%) in a terraced house. In addition, whilst many are waiting out lockdown in a property with 3 bedrooms (40%), almost a tenth only have one (9%). A further 6% are living in a property with a spacious five bedrooms or more.
However, 71% say they have no plans to move from their current property, post lockdown. Those in bungalows are most inclined to stay put (86%), compared to 75% in semi-detached properties, 71% in terraced houses, and 53% of those in flats and apartments.
Of the very small number who were planning on moving, but have since reconsidered (3%), the most common reason is due to a change in financial circumstances (37%), whilst over a fifth (21%) have fallen back in love with their property, after spending an increased amount of time in it over the past months.
For those who are planning on pushing ahead with a move when possible, the main driver was needing more space (30%), whilst over a fifth (22%) said spending so much time at home had made them see faults with their current property.
When asked more generally about moving, UK adults agreed indoor and outdoor space would be the main factors (13% and 15%) in making them want to move, and almost a tenth (9%) said they'd like to move to a less populated part of the country.
When it comes to working from home, something a great many Brits have had to do a lot more of recently, almost a quarter (24%) now have a greater desire to do it, although 10% have found their desire to work from home has decreased since lockdown.
Russell Galley, Managing Director, Halifax, said: "Lockdown will have been a difficult time for many, particularly for the 1 in 10 who don't have access to outdoor space. However, it's cheering to see that almost a third of people feel more positive about their home following lockdown, and a greater sense of community with their neighbours, a testament to our ability to keep optimistic, and come together, in the face of challenging circumstances."