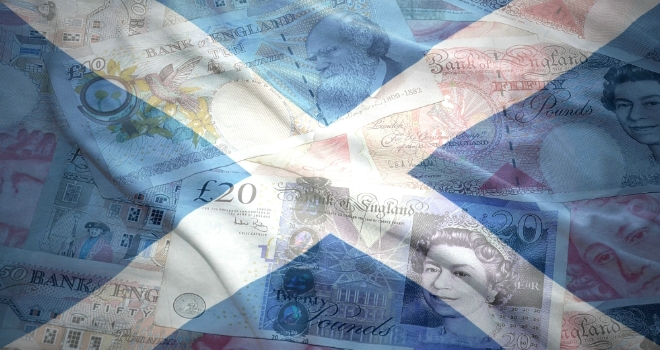 ""
According to the latest Scotland Buy-to-Let Index from Your Move, Scottish rents are rising at less than a third of the rate seen in the rest of Britain, growing by just 1.7% in the past year.
Across the border in England and Wales, rents have have soared by 6.3% in the past twelve months.

Residential rents in Scotland fell 0.3% from August to September 2015. This is the second consecutive monthly drop in Scottish rents, meaning that the typical rent in Scotland is now 0.8% lower than at its summer peak in July.

The average monthly rent in Scotland now stands at £545 in September 2015, compared to £549 in July 2015. However this is a third (33.3%) cheaper than in England and Wales during September.

Brian Moran, lettings director at Your Move Scotland, comments: "All eyes are on the proposed reforms to the private rented sector in Scotland, but this appears to be a case of plenty of heat but no light. "There's a crucial element missing to the debate. Rents are not going up quickly enough to warrant the staggering rise in tenant arrears we're seeing. Rather, tenant finances have much more to do with deeper-rooted societal problems of salaries and employment levels.

Over the summer we witnessed a short-term surge in rent prices, but this has been superseded more recently with a slower rate of rent growth, which doesn't even come close to what we're witnessing south of the border. Scottish rents have been falling for the past few months, and realigning to calmer levels for the autumn. This is even more extraordinary when you consider we've just weathered peak lettings season. It's certainly not a sector spiralling out of control.

This auto-correction, and natural flow of the lettings market will be disrupted by artificial interventions from the Government. Private sector landlords could soon face a regulatory minefield, and this may dissuade future investment into buy-to-let at a time when we need to be the sector to grow, not contract. Ultimately, where the supply of rental properties uncouples from demand, rent growth will be massively thrown out of kilter, and tenants will find themselves even more exposed."

Rents by region

All but one region of Scotland has seen rents increase over the past year. The strongest annual rent growth has been recorded in the Highlands & Islands, with rents up 6.4% (or £34) since September 2014 to reach a new high of £572 per month. This represents the fifth consecutive month that annual rent growth has accelerated in this region, and the fastest year-on-year increase on record for the Highlands & Islands.

The South has seen the second fastest annual rise in rents, up 4.0% in the past twelve months, or £19 in cash terms. Edinburgh & the Lothians have witnessed a more muted rent rise of 2.0% year-on-year, while typical weekly rents in the East of Scotland are now 1.9% higher than a year ago.

Glasgow & Clyde is the only region to experience a fall in rents on an annual basis. Here, rents have dropped 2.6% (equal to £15) over the past twelve months, to stand at £555 on average. This has fallen well below the peak for this region, which was £574 in August 2014.

In September, rents are higher than last month in only two of the five regions of Scotland.Compared to August, Edinburgh & the Lothians has experienced the biggest increase in rents, climbing 1.0%. Equivalent to £6, this boost takes the typical rent in the region to £623 per month, the highest level on record. Despite the strong long-term gains, the Highlands & Islands have seen a more modest 0.3% uplift in rents since August.

Meanwhile, rents in Glasgow & Clyde have seen no change month-on-month, and two regions have witnessed a monthly drop in rent prices. Average rents in the East of Scotland are 0.7% lower than in August. However the biggest monthly drop was experienced in the South of the country, where typical rents are down 1.2% in the past month, equal to £6 in absolute terms.
Tenant arrears more than double year-on-year

Tenant arrears are currently at a record high. In September, the proportion of rent paid in arrears increased to 13.2% of all rent due in the month. This represents a sharp uptick from just 12.2% in August, and are also higher on an annual basis, with rental arrears standing at 6.4% in September 2014.

Brian Moran comments: "The proportion of rent being paid late has more than doubled in twelve months. Rent growth is holding a steady and relatively leisurely course, but arrears have deviated from the example of England and Wales, and tenant finances are being held underwater by other economic conditions.

It's not just in terms of rental arrears where Scotland is moving against the grain – Scotland's rising unemployment levels are flouting the wider UK trend too. Until the number of Scots out of work starts to fall again, many households will continue to get that sinking feeling when it comes to paying the bills every month."

Yields dip, but returns strengthening

The average gross yield on a Scottish rental property stands at 4.0% as of September 2015, dipping marginally from 4.1% the previous month. On an annual basis, gross yields are consistent with September 2014, following a period of realignment after a significant drop in the spring.

When taking into account property price growth and void periods between tenants, but before any costs such as mortgage repayments or maintenance, the average total annual return on a buy-to-let property in Scotland stands at 5.7% in the twelve months to September 2015. This has improved from 5.3% in August, but is a considerable reduction from 8.7% in the year to September 2014.

In absolute terms this means the average landlord in Scotland has seen a return, before any mortgage payments or maintenance costs, of £9,000 in the twelve months to September 2015. Of this, rental income amounts to £5,900, while capital appreciation on buy-to-let property accounts for £3,100 in the last year.

Brian Moran concludes: "Reform confusion aside, it shouldn't be all doom or gloom for Scottish landlords. With the strengthening of the purchase market, total annual returns are on the way up, but these are primarily underpinned and stabilised by reliable rental yields. As a result, gross yields are delivering consistency and confidence to buy-to-let investors, despite the battles raging in the corridors of Holyrood.

The Private Housing Bill means Scotland will have more stringent regulation than the rest of Britain, and there's a very real threat that this will dissuade further investment into the Scottish buy-to-let sector. Fewer rental properties is a one-way ticket to higher tenant competition for homes and resulting rent rises. But an equally worrying implication is that the Bill could be a huge distraction from the bigger picture issue – that is, a lack of housebuilding to meet demand for affordable homes of all tenures across Scotland."