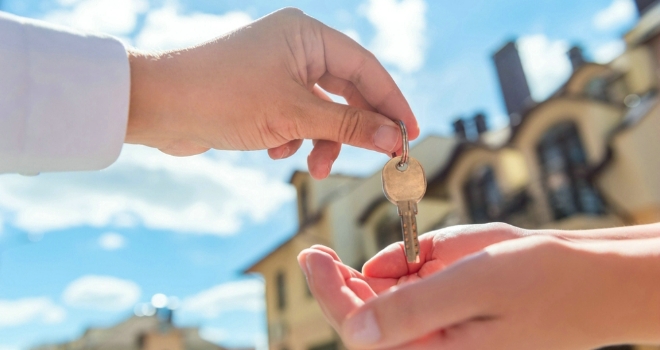 "When viewing a kitchen it's common to prioritise the space available, but what should be the focus is the appliances. While the seller should leave any fixed appliances, there's no legal obligation, so asking ensures you can account for any additional costs"
- Kellie Steed - Uswitch
Despite rising mortgage rates, the first-time buyer market continues to grow - last year there were over 850,000 first-time buyers in England alone and 41% of non-homeowners plan to buy in the next 5 years.
With this in mind, Uswitch first-time buyer mortgage expert, Kellie Steed, has outlined key questions to ask and what to check when you're at a viewing, to help first-time buyers navigate the process and prevent unnecessary future costs.
Before you start attending viewings
Write a list of non-negotiable features you would want the property to have and a wish list of features you would like the property to have. Finally, note down a list of deal breakers that would deter you from a property.
10 questions to ask your estate agent
How long has the property been on the market? - It takes on average between five to fourteen weeks for a property to receive an offer. If the property's been on the market much longer than that there could be something putting buyers off, so it's worth investigating.
How long have the current owners lived there & why are they moving? - Homeowners who buy their house with a mortgage stay on average 9 years. If the current owners haven't been there long it could be a potential red flag, so it's important to find out why.
How old is the property? - Older properties may require more maintenance and repairs.
How much are bills (council tax, utilities etc)?
What are the neighbours like (e.g. students, young professionals, family, retirees)?
How far is the property from local amenities (e.g. gym, doctors' surgery, supermarket)?
Have there been any recent repairs/refurbishments?
What is the property's EPC rating? - The EPC rating is an important consideration as at a time when it's costly to heat your home, you'll want to feel sure that's possible without causing too much burden on your finances, or the planet.
Is anything additional included in the sale (e.g. appliances, carpets, curtains) - It's important to ask this so you know exactly what you're getting and can account for any additional costs, but also so that nothing unwanted is left behind.
Are there any current planning applications outstanding or recently approved in the local area? - You need to be aware of this as it could impact both your living conditions (e.g. views, noise) and future house prices.
What to check at the viewing
General:
The front door lock - Is it secure (e.g. does it have a double lock)?
Does the property have any additional safety features (e.g. double entry system, double lock, CTTV, burglar alarm)?
The type of gas/electricity meter the property has - Meter type impacts the way you pay your energy bills.
How old the boiler is - If the boiler is old it may cause issues and need to be repaired/ replaced. The cost of a boiler replacement is likely to exceed £1500 and could be as much as £5000.
Outside the property:
It can be easy to forget to check the exterior when viewing a property, but the outside of a home can give crucial insights into its structural durability, as well as safety and accessibility.
Parking - Is it included with the property? If not, is there a permit you'd need to get?
Accessibility - Are there steps up to any entrances?
The surrounding area - Does it feel safe? Is it well-lit? Is it noisy?
The state of the property's exterior (e.g. the guttering, any cracks in the brickwork)
If the property has a garden - Is it private? Are the fences/gates secure?
In every room:
Do the windows have locks? Are they double-glazed? How much natural light gets in? How much built-in storage space is there? Where are all the plug sockets located and how many are there? Does each room have a main light? Is there sufficient lighting?
Are there signs of damp or mould, or any physical signs of wear and tear?
Bathroom:
It's essential to assess the bathroom at a viewing as it can be the primary location for damp and mould issues to surface. Condensation is a leading cause of damp and mould, so poor ventilation or lack of an extractor fan should be considered a red flag.
Ask about the water pressure and how long it takes for hot water to come on, whether there's an extractor fan, and if so if it is in working order. Also, ask if the room has sufficient ventilation.
Kitchen:
When viewing a kitchen it's common to prioritise the space available, but what should be the focus is the appliances. While the seller should leave any fixed appliances, there's no legal obligation, so asking ensures you can account for any additional costs.
You should ask whether there is an extractor fan and if so, if it is in working order. Enquire about the type of hob installed and the type of oven installed.
It is also important to ask whether white goods (e.g. fridge, washing machine) are included and if they are in working order as well as whether any additional appliances are included (e.g. kettle, microwave) and if they are in working order.
Additional factors to check
Nearby public transport links - How close are they? Is the area well connected? The crime rate in the local area (there are online interactive maps you can use for this). The broadband speed and mobile coverage in the area - tools are available online for these.
And finally, what council tax band the property falls in - You can find this out on the GOV.UK website.