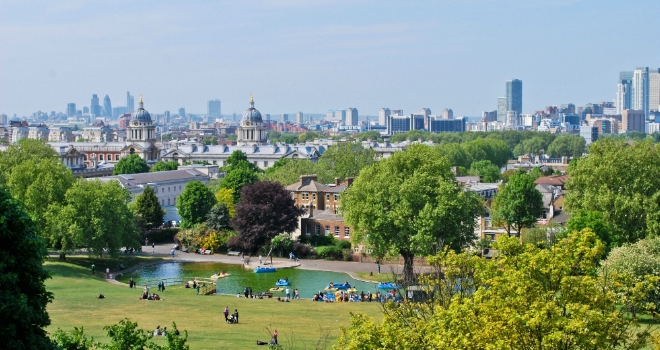 "While welcome news, the gap between earnings and prices needs to close further in order to make a material difference to would be purchasers."
The UK's most expensive cities are becoming more affordable for homebuyers, according to the latest data from Zoopla.
The figures show that Cambridge, London and Oxford have all seen affordability levels improve to those experienced in 2015.
Zoopla says weak house price growth and continued growth in average earnings means housing affordability is starting to improve across the highest value markets.
In London the average house price (£483,100) now stands at 13.1x the average Londoner's earnings, down from a high of 14.1x two years ago to levels last seen in June 2015. Despite this modest improvement, the London ratio today remains well ahead of the 20-year house price to earnings ratio average (9.9x).
In other expensive cities, Cambridge and Oxford, where house prices now sit at 12.2x and 11.9x average earnings respectively, there has been a similar improvement, with affordability levels back to those seen in mid-2015. The southern cities of Bournemouth, Southampton, Portsmouth and Bristol, which have the next highest affordability ratios of 7.5x to 9.7x, have recorded a small decrease in the house price to earnings ratio since 2016 as price growth has dropped below the growth in average earnings. Across the UK, the average house price to earnings ratio is 6.7.
The property market in Birmingham, which was the fastest growing city for house prices across much of 2018, has seen the annual rate of growth slow to +3.5%, half the level of July 2017 (7.2%). Market dynamics have shifted and weaker demand is failing to keep pace with rising supply and the city is now ranked 9th for annual house price growth.
Whilst London is the most expensive city at £483,100, house price inflation continues to hover at 0%. Edinburgh and Liverpool are clear front-runners, each experiencing annual house price growth of 5.8% to £236,900 and £125,500 respectively. Liverpool has seen prices rise rapidly off a low base and this time last year house prices were rising by +3.8% annually.
Only two cities are seeing annual house price falls for July 2019: Aberdeen (fall of 4.8% to £160,100) and Oxford (fall of 0.4% to £405,600).
Richard Donnell, research and insight director at Zoopla, commented: "Housing affordability is slowly starting to improve in London as earnings growth outstrips house price inflation. There has been a clear downward trend in the ratio of house prices to average earnings over the last 2 years. However, the scale of improvement is relatively modest. While welcome news, the gap between earnings and prices needs to close further in order to make a material difference to would be purchasers. The changing picture is not limited to London. There are 12 cities where the annual growth in house prices is below the growth in average earnings which is running at 3.7%. Lower-priced cities in northern England are actually getting less affordable than their southern counterparts when you consider that the annual percentage growth in house prices is outstripping earnings growth."
"Although the likes of London, Oxford, Cambridge are at their most affordable levels in four years, the price to earnings ratio remains well ahead of the 20-year average. Some cities to the north of England and Scotland are more affordable now when compared to 2007 but, with more scope for future house price growth, the price to earnings ratio is set to rise slowly in the coming years."
The affordability of housing varies widely across the UK from a high of 13x in London to a low of 3.7x in Glasgow. This reflects the huge variation in house price growth over the last decade and the relative strength of demand and availability of housing supply across UK cities. In cities with attractive affordability there is room for further house price growth so long as mortgage rates remain low and the economy continues to grow and create jobs. However, house price growth levels are slowing down and this is likely to build into the autumn until there is greater clarity over the Brexit process and its implications on the economy."