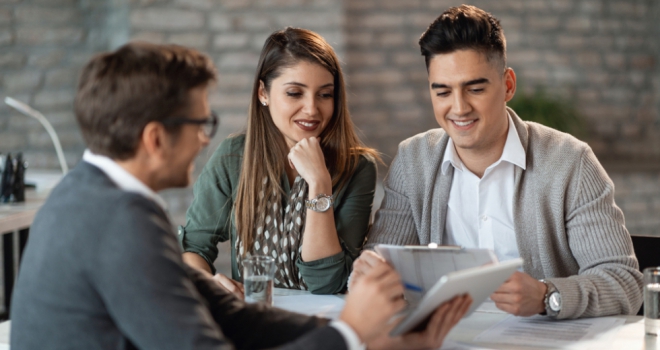 The past 16 months or so have certainly proven that both the housing market can change at the drop of the hat and that it has been unexpectedly resilient as house prices have continued to rise, despite the economic uncertainty of the pandemic.
Although the mortgage industry has always been heavily reliant on face-to-face transactions, estate agents and brokers have turned to digital technology to continue to serve customers through video conference applications, such as Skype, Zoom and Microsoft Teams, to keep mortgage applications on track. Along with this, conferences, roadshows, and other important industry events have been able to continue by moving online, helping to sustain relationships with prospective buyers.
Similarly, Automated Valuation Models (AVMs) have been a saving grace for the mortgage industry during the pandemic when physical valuations were not possible, especially since they're instantaneous (and usually free!). Virtual property tours also helped to fill a void, which was a useful stopgap for unprecedented circumstances like these.
Moving on from this, looking at what has changed within the mortgage industry over the last five to 10 years, we can see just how fluid the mortgage industry is, with prospective buyers and sellers constantly having to adapt their approach. For instance, when further regulations were enforced in 2014, we can see that those applying for mortgages came under greater scrutiny, which hit first-time buyers particularly hard - most young people were unable to afford a mortgage deposit.
Whereas this year the government announced the reintroduction of the 5% deposit scheme, enabling young people to buy their own home without having to save anywhere near as much as they previously been required to.
With this in mind, the ever-changing market means it's definitely going to be interesting to see how it progresses over the next 5 to ten years.
Digital Tech is here to stay
Digital technology has played a key role for the mortgage world throughout the pandemic, allowing the industry to continue business as seamlessly as possible.
However, these technologies are certainly here to stay, regardless of COVID, with many mortgage brokers and estate agents realising that the wider adoption of video calling, ATMs and virtual tours is essential and overdue - especially as many are expected to continue working from home.
The move to become paperless with digital e-signatures and client on-boarding through chat interfaces are significant advances that have enabled a digital relationship to establish between the mortgage industry and prospective buyers, and we can expect this to progress throughout the foreseeable future.
Mortgage Passports
It's suspected that, in years to come, we might see the introduction of some kind of 'mortgage passport' which will allow home buyers to skip out the process of re-applying for a mortgage from scratch when buying another property.
Of course, something like this could be particularly useful for those looking to regularly purchase and invest in new properties, as well as those who opt for buy-to-lets. Not to mention the benefits of streamlining the mortgage application process for all prospective buyers, whether that's those who are first-time or more experienced home buyers.
Streamlined broker market
With many mortgage brokerages in the UK right now being small operations specialising in niche customers, I think the broker market will see some streamlining in the years to come.
As the market is showing signs of appreciating the importance of catering for all customers, we'll see a smaller number of brokerages in the future and, of those, they're most likely to expand and cover more areas of lending.
One-click mortgages
Another trend I think might come into play within the next five to 10 years are 'one-click mortgages', where we eventually get to the point of being able to buy a property at the click of a button, or at least in a much quicker and more automated way than before.
With electronic verification already being used by estate agents – as it's so quick and easy – who's to say the mortgage industry couldn't progress to even having a button on property pages that will take you through to 'buy-it-now' or something similar?
With these new technologies set to stay within the mortgage industry, 'one-click mortgages' or a system along these lines could certainly come into play.