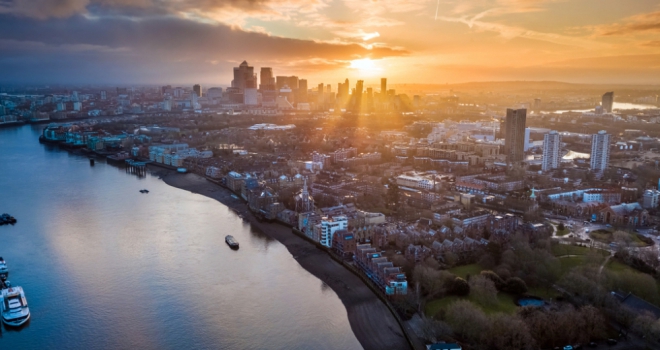 "Life in Luton means easy access to the best that London has to offer but without the capital's extortionate housing costs."
According to Savills, London will lead the UK's compound rental growth over the five years to 2023, with growth or 0.5% this year accelerating to 1.5% in 2020, 4.0% in 2021 and 4.5% in the following two years.
The overall growth rate of 15.9% compares to growth across the rest of the UK of just 11.5%.
Luton is located 30 miles north west of central London and Jackson-Stops has flagged it as the top commuter hotspot for 2019. Direct trains run into London St Pancras International in as little as 22 minutes. Rents, meanwhile, are around a third of the cost that they are in London.
Between 2018 and 2041, the Office for National Statistics projects that the town's population will grow by 12.9%, to 248,500. At the same time, it is in the grips of a serious housing shortage, with Project Etopia projecting that it will be 22.1 years behind where it needs to be in terms of housebuilding by 2026, if the current rate of development continues. At present, Luton is building 430 new homes per year - it needs to be building 1,417 to meet demand.
However Surrenden Invest says Luton's housing shortage spells good news for buy-to-let investors over the longer term, as it points to a sustained level of demand for private rented accommodation.
It also has the potential to drive up house prices (as well as rents and yields). Luton is already bucking the trend in terms of house price rises. While many southern locations are seeing a market correction at present, with falling prices or nil growth, Luton's prices rose by 1.6% in the year to April 2019. Savills, meanwhile, projects growth of 9.3% in the five years to 2023 for the wider South East region.
In terms of its rental market, Luton enjoys an average rent of £632 pcm for a one-bedroom apartment and £828 pcm for a two-bedroom one, according to Zoopla.
Jonathan Stephens, MD of Surrenden Invest, commented: "Life in Luton means easy access to the best that London has to offer but without the capital's extortionate housing costs. The town has excellent amenities with a lively local culture that appeals to those looking to balance access to London with a realistic lifestyle. This is one of the reasons that Luton exhibits such excellent growth potential.
"It is Luton's combination of capital growth potential and pent-up demand for private rented sector homes that has caused the town to top LendInvest's UK buy to let index for so much of the past three- or four-year period. This is a town with outstanding growth potential."