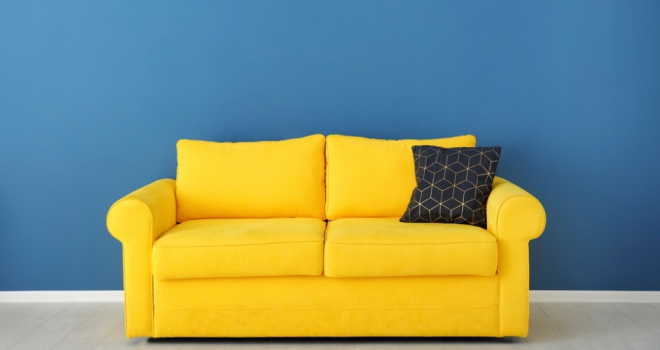 Well, there's a question we bet you never knew you needed the answer to, but bear with us.
Most homes these days will have one (or maybe more) in one form or another. The humble, friendly, reliable couch.
However, interesting new research from lettings and estate agent, Benham and Reeves, has revealed that your sofa is perhaps not as benign as you first thought and is swallowing up as much as £11,000 of your property's value when it comes to house prices per square foot.
The research found that on average, the cost of buying a home across the UK sits at £288 per square foot, up from £278 just a year ago. With the average two-seater sofa coming in at 8.4 sqft, it's costing UK homebuyers £2,417 in property prices when considering the space needed and the cost per square foot.
With space hard to find and prices carrying a premium, London is predictably home to the UK's most expensive sofas.
In Kensington and Chelsea where the property price per square foot is as high as £1,356, a simple two-seater sofa will swallow up £11,389 worth of property value. Westminster (£9,530), Camden (£8,382), Hammersmith and Fulham (£7,582) are also amongst the most expensive sofa hotspots, with Elmbridge the most expensive outside of London (£4,372).
At the other end of the scale, with a property price per square foot of just £86, a sofa in Blaenau Gwent takes up £722 worth of property value.
However, it's homebuyers in Fife who have seen the property cost of their sofa increase by the largest margin over the last year. With the property price per square foot increasing from £121 to £192 in just 12 months, the overall cost of a sofa in Fife has jumped 59%; that's nearly £600.
Homebuyers in Burnley, Pendle and Hyndburn have also seen some of the largest increases in the property cost of their sofa.
However, it's not all bad news for sofa dwellers. Those moving into a new home in Angus, South Lakeland, Hinckley and Bosworth and East Devon have all seen the property cost for the space required for a sofa fall between five and 15%.
Marc von Grundherr, Director of Benham and Reeves, commented: "There's no denying the sofa is an essential item, as we've come to realise during lockdown, and one that the vast majority of us will want in our homes.
"However, as a nation, we're obsessed with house prices and so we wanted to highlight the varying cost of property values at a ground level.
"In some areas, steep house price growth means your sofa alone is now a lot more expensive in property price terms when compared to a year ago.
"In addition to property prices alone, it's important to remember that sometimes less is often more. This is particularly true in built-up cities like London, where finding the right balance between furnished and cluttered is key when making the most of your home and getting your money's worth."