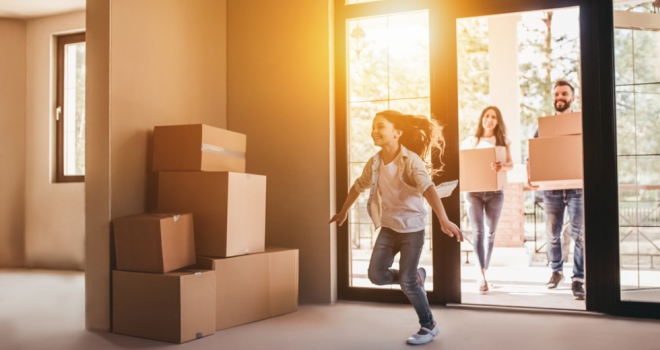 And for many potential homemovers, this change in rules translated into cash savings at a time when it was most needed.
Newly released figures from Just Move In now reveals the scope of the stamp duty holiday, with 46% of UK homebuyers now having no stamp duty to pay, thanks to the reprieve announced by Rishi Sunak. This means that they can more than cover the additional costs associated with actually moving house.
The data shows the stamp duty saving in each local authority of England based on the current average house price. The firm then looked at the average cost of moving in each area, based on requirements such as surveyors, valuation fees, conveyancing, hiring a removal firm and even postal redirection.
The research shows that when all things are considered, it will cost an average of £2,962 for homebuyers to move house. With an average stamp duty saving of £2,465, the average home buyer can reduce the cost of moving to £497 in England.
However, there are some many local authorities where this cost is eradicated altogether thanks to the stamp duty saving on offer.
In St Albans, the cost of moving home is an average of £3,206. A stamp duty saving of £14,694 means homebuyers can move for free and still pocket £11,488 in stamp duty savings.
In Windsor and Maidenhead, the same cost of moving and a stamp duty saving of £14,525 means homebuyers can move home for nothing and still save £11,319 stamp duty. The same applies in Southwark (£11,224) and Mole Valley (£11,216).
In Kingston, Merton, Three Rivers, Tower Hamlets, Lambeth and Chiltern, the cost of moving is between £3,206 and £4,855 on average. But with stamp duty savings hitting as much £15,000, homebuyers can move house free of charge and still pocket a five-figure stamp duty saving once these costs have been accounted for.
Unfortunately for those eying a move to Kensington and Chelsea, the cost of moving to the borough averages a hefty £72,350. While there is a stamp duty saving of £15,000 to be had, it only reduces the cost of moving house rather than eradicating it.
Ross Nichols, founder and CEO of Just Move In, commented: "As well as being an incredibly stressful process, moving home can also throw up all sorts of hidden costs that homebuyers may not have considered, planned or budgeted for.
"The great news for the vast majority is that these costs will no longer trip them up as they can be easily taken care of with the stamp duty saving on offer.
"That said, this saving can be further enhanced by making sure we're receiving the best deals in other areas of the moving process, such as our broadband, TV and energy suppliers.
"Just Move In can take care of the leg work in this respect. So all that's left is for you to unpack, sit back and enjoy the extra money in your pocket."