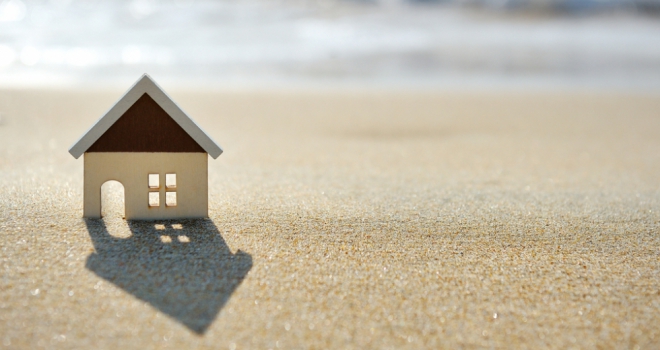 First impressions
The first impression your guests will get of your property will be online. Therefore, you need to be thinking of photography and a storyline to the product that you have created. To capture your potential guest's attention, take photos in bright rooms, use a good camera or professional photographer and have a key capture shot that is going to tell them a story in that single photograph.
Example case study:
The owner of a property in St Margaret's Bay contacted us as they wanted to increase their bookings outside of the high season.
To help bookings, we decided to take a different approach with the photography. We read guest reviews which described the cottage as a romantic break for couples, one guest even described a romantic picnic on the beach where a proposal happened. Inspired by this we took a photograph of a picnic set up in that location.
We also improved the description of the property from text such as 'treat for the family' or 'modern interior' to more enticing copy which included 'romantic pretty cottage with cliff top views', 'ceiling to floor bay windows' and 'picturesque Kent coastline'.
These changes resulted in a 30% income growth and a very happy owner!
Added extras
Extras and premiums always add more value to a property and can be very useful in the low seasons to ensure you get the maximum income.
Pets – The pet friendly market is a huge - 33% of bookings include pets and it adds an extra £20 per night to a booking. It is a market that is growing, guests want to stay and bring their pets along as they are part of the family.
Hot tub – They are a good incentive if you have the space as it boosts bookings by 20% and adds 15% onto prices. Some of our properties have found that 50% of guests add on the option of the hot tub to their booking for an extra price. During the 2018 summer heatwave, we saw a 70% rise in searches for properties with hot tubs.
Concierge – We are seeing that guests prefer brands to have everything all in one place so they can book a package, so we reacted to this and offer a concierge service. We can arrange everything from flowers, cakes and Champagne to private chefs, laundry or equipment hire. To increase return on investment, we recommend owners look at what their guests want in addition when they come to stay. Why not arrange a deal with local attractions and activities? If you are maximising what you can offer at your property you increase income and repeat bookings.
Instant book
Owners should always have their calendar and prices live online and make sure that it is always updated, blocking out dates the property is unavailable. Guests want an instant response and an automatic confirmation so that they can begin planning their trip. We have found that those who offer instant booking receive 10 times more bookings compared to those who don't.
Maximise your margin
Owners can maximise their margin with strategic pricing. Look at your booking patterns, are guests booking last minute? When is the most popular time for stays? By analysing this you can play to the strengths of your property.
For example, if your property is popular for weekend breaks then raise your prices with a weekend premium, and if you receive a lot of late bookings then you may not need to offer last minute deals.
You can also increase your income by giving guests the option to book in advance. By February 2019 we expect all our properties will be available to book throughout 2020.
Always be prepared
To increase your income ensure that your property is always ready for guests. 70% book within four weeks of arrival and some book very last minute. For example, if we are experiencing lovely weather then we expect a wave of last minute bookings days before – or even on the day of arrival.