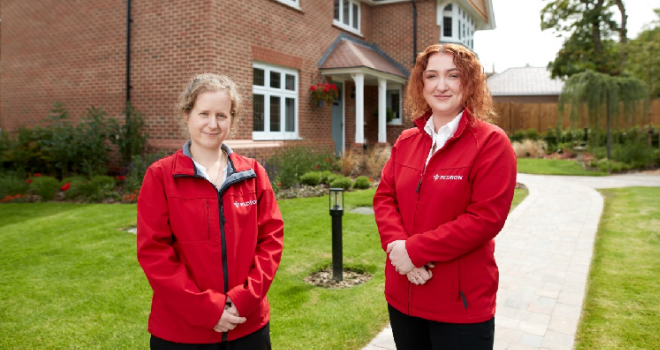 Today is Women in Engineering Day and, to mark the occasion, Redrow is celebrating the careers of two of its female site engineers in Lancashire.
Em Lamb was attracted to a role in engineering thanks to her love of 'Grand Designs' and believes perseverance and an ability to multitask are key qualities for those working as site engineers.
Taking the university route, Em, from Liverpool, completed a degree and masters in Civil Engineering at the University of Birmingham, including a year of study in Canada.
"There was no career advice at school," she said. "We were left to decide for ourselves. I didn't even realise civil engineering was a career choice until I was scanning the jobs that would help me to qualify for an Australian visa."
Whilst at university, Em undertook six months' work experience with a piling subcontractor, before joining Kier's infrastructure division upon graduation. She played a key role in managing all utility works for the Mersey Gateway project before moving on to the M6 motorway and eventually making the switch to housebuilding.
She said: "I was made redundant from a previous job while on maternity leave and decided to see it as an opportunity to do what I really wanted to do. I decided to move away from working in heavy civils and transfer into housebuilding."
Em, who now has two young children, says the flexible working arrangements offered by Redrow's Chorley-based Lancashire division were "integral" in her decision to work for them.
She added: "The management team is excellent. It's rare for a director to understand the need for flexibility so well. In previous jobs, I was often the sole person to request flexible working but here it is more the norm."
Her colleague Chloe Harrison, 27, from Runcorn, is also a site engineer. Chloe says she "jumped around" several different roles after leaving school before deciding to focus on starting a career where she could see a long-term future.
Browsing local job opportunities, she was drawn by an advert to train as a civil engineer with Halton Borough Council. After completing her NVQ in Civil Engineering, she went on to work for a small housebuilder in Liverpool for just under three years.
She joined Redrow last year and now works across eight live sites as well as setting up new sites and handling several legacy developments.
Chloe said: "Engineering is a great career for anyone, whatever your walk of life. Of course, you have to be technically minded but the main quality required is being a people person.
"It's been great to learn on the job and I'm so pleased I responded to that first job advert, which kick-started my career. My dad had previously worked in highways but he always encouraged me to follow my own path. It just so happened that path was in civil engineering."
Technical director for Redrow Lancashire Mark Dawson said: "Engineering and construction careers are extremely rewarding. They provide high levels of job satisfaction; seeing developments through to fruition and watching new communities thrive, built on the infrastructure installed by our site engineers.
"It's great to have Em and Chloe as part of our team but the fact is that civil engineering remains a male-dominated career. To ensure a highly-skilled workforce for the future we need to attract as many individuals into the industry as possible and that includes many more women than at present. We really hope more people see the success and passion Em and Chloe have for their careers and follow in their footsteps."