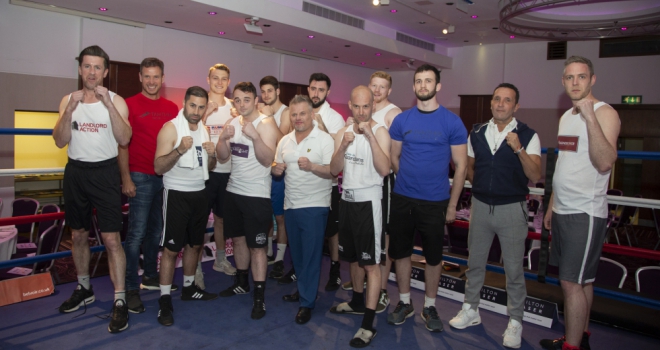 On Thursday 23rd May, the fifth annual 'Rumble with the Agents' white-collar charity boxing event took place at The Holiday Inn in Finchley Central.
Central. The sell-out event, attended by more than 300 property professionals, raised in excess of £19,000 for Make-A-Wish UK, with the final total still being tallied, which will enable eight children with critical illnesses to be granted their once in a lifetime wish.
On the night, 10 boxers were paired for the five fights comprising three rounds each. Heckled and cheered on by friends, family and colleagues, each demonstrated the effort they had put into the intensive training over the last few months.
The incredible amount was raised from donations, a raffle and a live auction of sporting memorabilia, which every year Paul Shamplina , founder of Landlord Action, sources from far and wide in order to maximise the event's charity donation.
Danielle Munday, Regional Fundraising Manager (South) for Make-A-Wish UK, commented: "Make-A-Wish UK would like to extend a huge thanks to Paul Shamplina and Landlord Action for allowing Make-A-Wish to be a part of this year's fantastic Rumble with the Agents, raising in excess of £19,000 and far exceeding all hope and expectation! With your help, we will now be able to grant approximately eight transformational wishes to children enduring illness and treatment that most of us could never imagine.
Our purpose is simple. We create life-changing wishes to children living with critical illnesses. Granting their one true wish provides seriously ill children with hope for the future, strength to cope and resilience to fight their condition. They are given quality time away from the daily realities of living with their condition and given the chance to make magical memories that they can treasure forever – whatever their future may hold. We can only grant wishes with the help and support of partners like you. Thank you again."
Paul Shamplina, founder of Landlord Action and brand ambassador for Hamilton Fraser, added: "I can't believe this has been the fifth year we have run this event. It was never my intention to launch an annual event, but every year it gets better, we raise more money and the quality of boxing from the novices improves. This year, I really wanted everyone to be able to see the tangible results of the money donated and how it makes a difference to those it goes to. Make-A-Wish UK is such a special charity and I hope by next year's event we will be able to show everyone pictures of those eight magical wishes and what it meant to the children that received them."