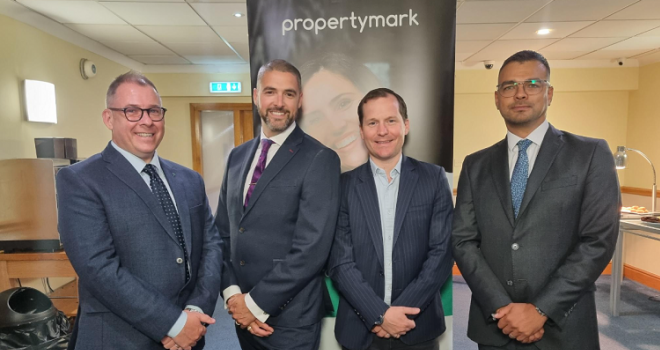 Two industry experts have been announced to assume the roles of NAEA Propertymark and ARLA Propertymark Presidents.
Stephen McCarron from Donnybrook Estate Agents in Londonderry Northern Ireland has moved into his role as NAEA Propertymark President and David Votta from Votta Sales and Letting in Kent as ARLA Propertymark President.
Stephen has worked in the Northern Ireland property market for thirty years and has been an active NAEA Propertymark member since he began. He started out with Nationwide Estate Agents and worked his way up the ranks to eventually open his own agency Donnybrook Estate Agents in 1997.
Stephen comments on his new position: "To play a key part of such a progressive organisation moving forward is a great privilege. I'm looking forward to working with agents and landlords especially on my own turf within Northern Ireland to bring their concerns and thoughts to the fore.
Propertymark puts its members at the heart of everything it does, and I shall continue to champion that during my term as President."
David, the new ARLA Propertymark President has been in the industry for over a decade and has reaffirmed his commitment during his time in the role to help promote and work to completely professionalise and regulate the industry to wipe out rogue agents and rogue landlords that continue to operate outside of the law.
David said: "I want to help Propertymark on their journey to create a level playing field for all landlords and agents so that housing standards are maintained and wave goodbye to those that flout the law."
"I'm honoured to take on the role as President for ARLA Propertymark.
"I'm stepping into the role at a key time for the lettings industry, especially now the Renters Reform White Paper has been published. I'm looking forward to getting my feet under the table and supporting Propertymark by ensuring that members' views are heard as they scrutinise its detail.
"I echo all that Propertymark stands for and I am humbled to be able to help promote the organisation as it continues to build on its successes and influence the future shape of our sector."
Trevor Palethorpe, NAVA Propertymark President, adds: "I think I speak for all of the Presidential teams when I say that both David and Stephen are a joy to work with and will most definitely be excellent ambassadors for the organisation and the industry during their term."
"After a rigorous election process, two presidential team appointments have also been announced. Greg Tsuman, Lettings Director at Martyn Gerrard will be joining as President Elect for ARLA Propertymark and Toby Leek, Head of Sales at Laurent Residential will become Vice President for NAEA Propertymark.
From left to right: Stephen McCarron, David Votta, Toby Leek and Greg Tsuman
Anthony Meadowcroft, NAEA Commercial President, said: "The coming year for Propertymark is an exciting one and I know that the two new Presidents are bursting with enthusiasm and have a lot to bring to the table.
"I look forward to working across the Propertymark divisions and congratulations also to Greg and Toby on successfully being elected into the Propertymark Presidential team."