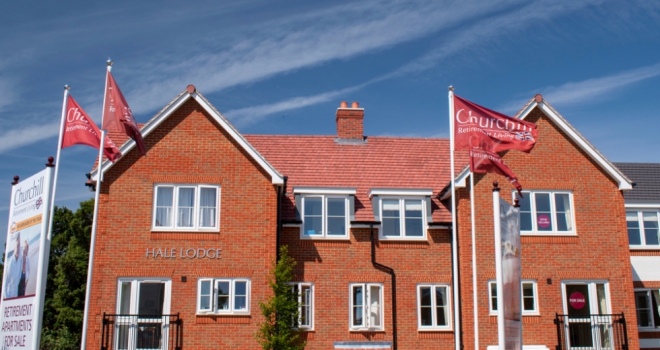 Retirement property specialists, Churchill Retirement Living has announced that sales were up to 584 from 521 last year with the average selling price fairly level year on year at £314,000.
Revenue was also up 10.8% to a record £208.6 million (2018: £188.3 million) in the year to the end of June pushing profit before tax up 6.8% to £55.2 million (2018: £51.7 million).
Chairman and ceo Spencer McCarthy said: "The group has delivered a strong financial performance during another tough year of political upheaval and economic uncertainty, both in the UK and globally."
McCarthy said: "The Home Exchange service remains important for our customers, many of whom are still finding it difficult to sell their existing property in the second hand market.
We maintained a cautious approach to land buying for a second consecutive year, in response to the uncertainty arising from the government's leasehold and ground rent consultation. As a result, we acquired 13 new sites across all regions, equating to around 563 new plots (2018: 13 sites, around 550 new plots), which largely replenishes the stock sold during the period."
McCarthy said that the planning system continues to present challenges for the firm, "with protracted affordable housing negotiations and long appeal delays.
However, the government's new Planning Guidance for Older People, published at the end of June, represents a positive step towards creating a level playing field for specialist retirement developers, enabling us to overcome the significant red tape and viability constraints our sector has to contend with.
"We will continue to keep a close eye on the market and monitor the impact of the various potential Brexit scenarios. The risks associated with a 'no deal' Brexit are well documented, and will continue to impact on consumer confidence, especially for Churchill Retirement Living's customers, who tend to be asset rich but cash poor, and more inclined to take a cautious view.
Unlike first time buyers, there is no government incentive for the 'last time buyer' to downsize, so the financial, practical and emotional barriers to a move can often be harder to overcome. However, with the UK's ageing population, and demand for our product continuing to outpace supply, the underlying long term growth drivers for the business remain strong."