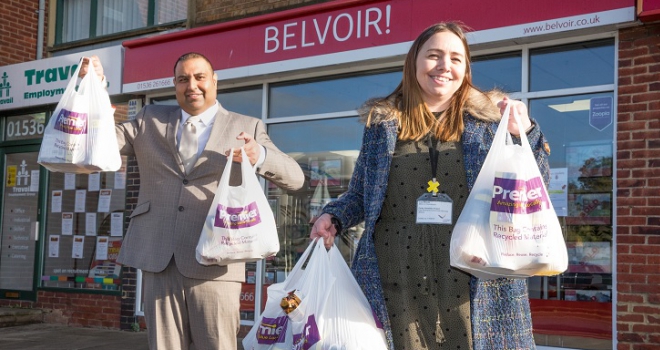 Despite this year continuing to be one of the most challenging on record for most, it seems that good old fashioned community spirit and human kindness still burn brightly in the UK.
Many came out in force to support their local food banks last week, all getting behind industry charity, Agents Giving, and their Annual Agents Giving Day. A sterling effort was shown from agents up and down the country during these challenging times to ensure their local food banks received the items and help they require.
Agents were encouraged to help tackle hunger in their local communities by preparing food donations to support their local food banks. Agents collected thousands of essential food items and toiletries and made the all-important and much needed safe delivery to their local food banks.
The total number of items collected so far stands at around 10,600 items plus other donations which is an amazing effort during current circumstances.
Huge thanks go to Relocation Agent Network who supported and organized collections and to all agents involved for their support, some of those included; Dawson's, Barbers Lettings, Thomas Charles, Newton Fallowell, Drivers & Norris, Belvoir Grantham, Belvoir Aberdeen, Belvoir Stoke and Thomas Morris Estate Agents.
Paramount in West Hampstead did an amazing job organizing food for their local 'Food Hub' which is based out of a community centre close to their office and helps to support some of their local community. They got creative and sold some office furniture and donated the proceeds. They raised over £350 in a couple of days, headed to the supermarket to buy as many supplies as possible with their funds, in total they collected over 500 items in their supermarket sweep. The donations were then taken directly to the Food Hub to be sorted ready for the hundreds of people who rely on these food parcels each week.
Michael Stoop Chairman of Agents Giving, comments: "We were thrilled with the number of agents collecting and donating food items for this Agents Giving Day, especially during such challenging times, literally thousands of food items were collected and donated. Thank you to all agents for their generosity, such an incredible job from all those involved."
You can still collect and donate food items. Find your local food bank and see what items they require: https://www.trusselltrust.org/get-help/find-a-foodbank/
For full information on how to get involved with this initiative which runs all through the year please visit the Agents Giving website agentsgiving.org to find your local food bank.