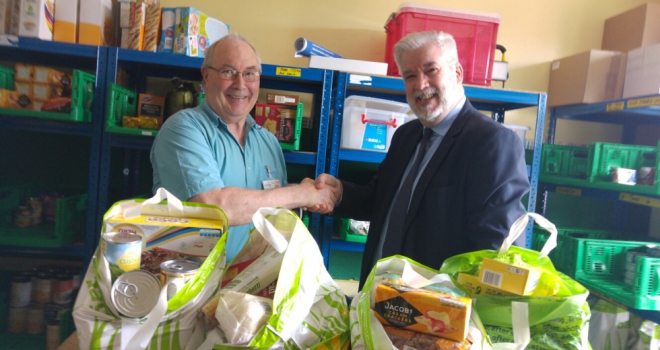 Agents were encouraged to help tackle hunger in their local communities by preparing food donations for their local foodbank. Agents collected thousands of essential food items and toiletries in their offices and made the all-important and much needed delivery to their local foodbanks.
The total number of items collected so far stands at 18,000 items with more to be counted.
Huge thanks goes to Relocation Agents Network who supported and organized #RANFoodbank10k collection via their member offices. Thanks to all agents involved, some of those included; Dawson's, Pygott & Crone, Hunters, Thomas Morris, Petty Estate Agents, Gibbs Gillespie, Seeley's Estate Agents and Drivers and Norris. They smashed their target of 10k items of food with a grand total of 10,300 with donations still being made.
Yvonne Martin of Agents Giving joined members of the RAN network on Agents Giving Day and comments; "My journey to St Neots showed me the passion and determination of so many agents to help tackle UK Hunger by supporting Agents Giving Day. Special thanks to Simon Bradbury of Thomas Morris and TV personality brother Jason who added valuable awareness on social media whilst visiting the Three Pilgrims Charity and St Neots Foodbank for a great insight to their valuable work supporting the local community".
Paramount showed their continued support to their local Brent foodbank by collecting over 750 items of food in addition to personal care items. Brent has seen a 400% increase in the number of people relying on the foodbank to get by along with a decline in donations so to provide a further boost the Paramount team spent the day volunteering by weighing, lifting, labeling and sorting in the warehouse. Their collections, support and volunteering will continue throughout the year with their Paramount Pantry campaign.
Other agents and suppliers contributing to the food collection included Eurolink, Northfields, David Lee, Loop Software, Frost Partnerships, Roberts Estate Agents, Margaret Whitton, R&B Leach, Kevin Scarff and Flatfair.
Michael Stoop, Chairman of Agents Giving comments; "We were thrilled with the number of agents collecting and donating food parcels for this Agents Giving Day, literally thousands of food items were collected and donated. Thank you to all agents for their generosity, such an incredible job from all those involved."