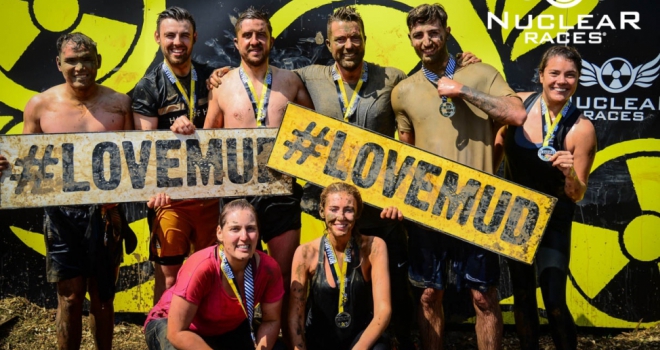 There are a few spaces remaining to join some of these wonderful teams on the 7k muddy course on Sunday 19th May where you can choose to tackle up to 60 different obstacles all set up by award winning Nuclear Races in a secret bunker estate in Brentwood, Essex.
The teams have been busy training and preparing for the race and have this to say:

Katy Poore, Branch Manager, Thomas Morris Sales & Lettings: "The whole training regime has been so much fun. I can't wait to do this event for the second time."

Danielle Thordal, Property Consultant, Thomas Morris Sales & Lettings: "The training has been tough, but I've really enjoyed the challenge, and it's for such a great cause. As long as I don't get too muddy on the day – I'll be happy.
Our team has definitely been motivated by the recent social media posts from fellow entrants, with gym sessions and training schedules suddenly being taken a bit more seriously! We can't wait for the day and our Rookies are excited to get stuck in the mud. We're thrilled to be taking part in such a good cause alongside our industry peers in what is sure to be a wet, muddy, laughter filled day that hopefully raises a great amount in donations and sponsorship".
You can enter a team of colleagues, family and friends for some muddy mayhem and do battle with obstacles such as the Death Slide, Cobra Attack, Spinning Monkeys and Cliff Hanger. It is open to all levels of ability and fitness and you can even enter the kids into the Rookie race.
All the time knowing your efforts are worthwhile and all for charity and we will be there to cheer you on.
We can't promise you won't get muddy but we can promise an experience you will never forget.
Join Team Agents Giving for their Tough Mudder on this wonderful festival weekend on 19th May and you'll get a technical t-shirt, medal, timing chip, hot showers, free parking and for the spectators live music and entertainment for all ages, refreshment and food hall and spectator areas in key positions around the course for £3.00 cash entry. A great day out for the whole family.
For more information on The Agents Giving Love Mud Challenge, please info@agentsgiving.org / or visit the website at www.agentsgiving.org