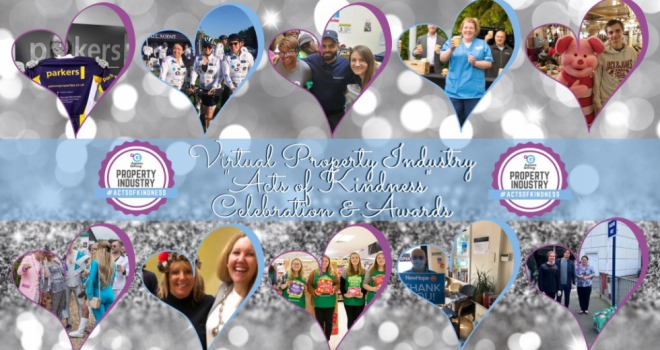 Taking place on Friday 4th December 2020 from 4pm-5pm, the all-new virtual awards will be presented and hosted by Agents Giving Patron, Phil Spencer.
Agents Giving have been supporting and promoting all your amazing #Industry Acts of Kindness since lockdown began and believe that ongoing support to local communities and neighbourhoods remains as important as ever in these challenging times.
The virtual awards will be streamed live on YouTube and will also feature a charity auction hosted by Agents Giving Partner, Iam Sold. There will also be lots of opportunities to win- a £750 donation to your chosen charity kindly donated by Foxtons, £200 Amazon vouchers kindly donated by Touch Right plus some amazing goody bags.
So save the date and watch this space for more updates including how to enter and register your interest to watch the awards.
The Act of Kindness Award categories:
1. Best Team Act of Kindness Award - Sponsored by HomeLet
2. Best Company Act of Kindness Award – Sponsored by The Depositary
3. Best Individual Act of Kindness Award – Sponsored by Just Move In
4. Best Creative Act of Kindness Award – Sponsored by Moneypenny
5. Best Community Act of Kindness Award – Sponsored by Zoopla
6. Best Industry Supplier Act of Kindness – Sponsored by Kerfuffle
7. Best Act of Kindness Campaign – Sponsored by PayProp 8. Special Act of Kindness Award – Sponsored by Foxtons
9. Social Media Award for Best Act of Kindness – Sponsored by JP Gardner & Associates
10. Overall Best Act of Kindness Award – Sponsored by ESTAS
Michael Stoop, Chairman of Agents Giving comments:
"It's been so heart-warming to see the acts of kindness that our industry has shown during these extraordinary times, we look forward with excitement to recognising the winners at our virtual awards on 4th December and we welcome you all to join in the fun and celebrations."
More information can be found here