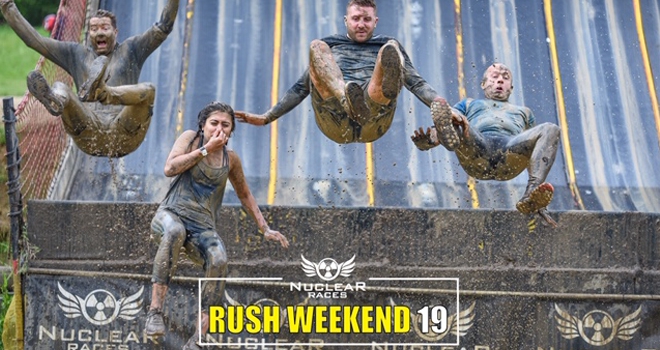 Now is the perfect time to sign up your office to allow plenty of time to train, fundraise and prepare yourself for the wet and mud that awaits you next May.
This year's winners Eurolink exceeded their own expectations around the course with a winning time of 2 hours 15minutes closely followed by Thomas Morris Estate Agents and Drivers & Norris.
The challenge is a 7km gritty and very muddy obstacle race to test all levels of fitness so everyone can take part. The 60+ obstacles include the death slide, zip–lines and gorilla bars to name a few. You choose how many and which obstacles your team take on. This is tough enough to be very challenging but also achievable and great fun, the team spirit is amazing.
It is part of a family festival weekend event hosted by the award winning Nuclear Races and benefits from timing chip, hot showers, parking, refreshments and food hall, spectator areas, camping option, live music and entertainment for all ages. The kids can also take part in the Rookie Race.
Michael Stoop Chairman of Agents Giving comments; "This highly competitive muddy challenge is set to return next year to test the industry once more. This year the teams from the property world went head to head tackling the challenging obstacles and triumphed. We look forward with excitement to 17th May 2020. So sign up your team now and let's get this challenge started."
You can have any number of people in your team, this really is a team building event. Sign up today, the earlier you sign up the easier it will be and the best thing about it all is you can do it together.
You can follow the latest Love Mud news and announcement of teams as they sign up at #AgentsLoveMudChallenge.
All fitness abilities can enter, minimum age to take part is 13 years old, fees are £250 per person which includes entry fees and your fundraising for Agents Giving to be completed by 17th May. Online entry deposit required at time of booking.
For more information on The Agents Giving Love Mud Challenge 2020, please email info@agentsgiving.org / or visit the website at www.agentsgiving.org