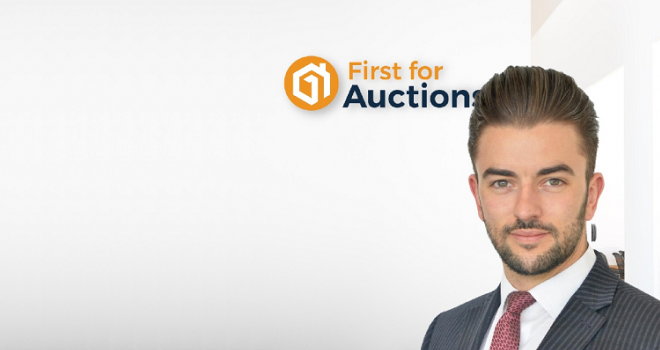 Previously separate entities through Romans Auctions and Leaders Auctions, this new offering will see a strengthening and rebranding of LRG auction services. First for Auctions will be used across the group and will also be available for use by other estate agents nationwide.
According to LRG, First for Auctions aims to be the go-to service for homeowners and estate agents looking to benefit from the ease and speed of property auctions, with the team working closely with sellers to understand the individual circumstances that make auctions the best solution.
Last year, 106 properties were sold through existing LRG Auctions Services, with a 95% sold success rate and properties have achieved an average of 25% over the guide price.
Over the last few years, the team has witnessed the demand for online auctions in the property market grow significantly. In early 2022, auction sales hit a 5-year high according to the latest report from the UK Commercial Property Auction Data report, as buyer confidence in auctions increased. Q1 sales through auctions in 2022 have been recorded as the highest since Q1 in 2017 and this volume was 22% above the 10-year average for Q1 results.
The First for Auctions specialist team is led by Daniel Gale who has been appointed Head of Auctions after joining LRG as a Sales Negotiator for Romans in 2007. Gale then moved into the Auctions Division as an Auctions and Commercial Surveyor in early 2010 and has continued to work within this division of LRG for over 10 years, until recently taking up this newly created role.
LRG say that Daniel has been instrumental in the company's migration to predominately online auctions amid increasing demand for virtual services as a result of the pandemic. With 15 years of experience in both residential and commercial property, he will look to utilise his industry knowledge to help grow the new auctions offering from LRG throughout the country.
The new leadership team also includes Simon Clayton, a qualified member of the National Association of Valuers and Auctioneers, and Auctioneer and Valuer, Gareth Bell. Both bring a wealth of experience in advising auction clients to this new brand.
Daniel Gale (pictured), comments: "I am extremely grateful to be leading such an incredibly experienced team and building on the success we've already had. I would like to thank them for their guidance and support throughout my many years at Romans and then LRG.
"The team has continued to produce incredible results for the business and our clients, averaging a 95% success rate on properties sold. I am looking forward to the next chapter in my journey at LRG, starting off with expanding First for Auctions nationally. Since the pandemic, we've seen many people opting for online services, including prospective home buyers. And, in turn, we've seen a significant increase in demand from homeowners interested in selling through online auctions. The expansion of this offering from LRG comes at a time when online auctions are becoming extremely popular because of the speed and certainty it can offer."
"We are very proud of the work we have been doing to further increase awareness of the benefits of selling through auction. Our mission is to demystify the auctions process so that where circumstances call for a more swift, efficient, and transparent sale, people looking to sell their homes benefit from the support of an experienced team who will be there every step of the process. It is a very exciting time to be part of property auctions as they grow exponentially in popularity, and I look forward to taking the First for Auctions brand national to watch that success grow."