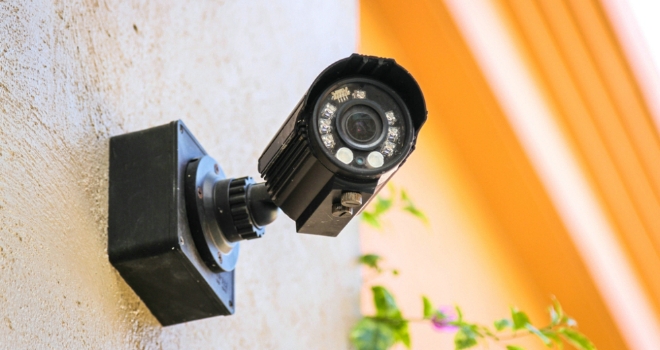 There's a home break-in every 106 seconds in the UK, with most incidents taking place while the homeowner is inside.
Taking steps to protect your property not only saves you money in stolen valuables but gives you much-needed peace of mind that you're safe in your home.
This National Home Security Awareness Month, Izzy Schulman, Director at Keys 4 U, helps you pick the right home security measures for your property.
Advice for renters
Home security can be tricky for renters, who often don't have permission to make big structural changes. However, there are still steps they can take to protect their property.
If you're concerned the locks haven't been changed since the move, ask your landlord to have new ones fitted. If they refuse, you're within your rights to work with a locksmith to have them changed yourself.
Portable tech devices can also deter unwanted visitors. Smart doorbells can be fitted in place of your existing doorbell and warn off potential intruders by capturing footage from your doorstep.
Similarly, wireless alarms can simply be clipped onto walls and doors around the home to alert you to a break-in. You can even move them around the home to target weak spots.
Home security for those on a budget
With over a quarter of UK burglaries a result of forced entry, it pays to beef up security on home entry points.
Replace the strike plate on your front door with a longer model – this allows you to fit more nails in. Switching out standard nails for longer ones – around 70-80mm – also makes the door more durable against brute force, without breaking the bank.
Bolts, latch chains and window restrictors are affordable and simple to install, compared with alarm systems, and add an extra physical layer of security.
Learning helpful security habits doesn't cost a thing, either. Keep valuables out of sight of windows and letterboxes as these can tempt opportunist thieves. Also, leaving the TV or radio on while you're out can trick burglars into thinking you're home.
Consider joining a neighbourhood watch scheme for added peace of mind that someone's looking out for you and your property.
Make your flat a fortress
When it comes to keeping a flat safe, it can pay to stick to the basics. Never buzz anyone into the building if you don't know them and be alert to people following you into the building.
Blocks of flats sometimes have loft spaces and areas above ceilings which aren't compartmentalised to each home. Intruders may be able to access these areas and enter apartments through loft hatches.
Like renters, flat owners can't always make large structural changes but securing loft hatches, for example with heavy-duty padlocks, adds an extra barrier to entry.
Unsurprisingly, ground floor flats are the most likely to be burgled. Never leave windows open if you're not in the room and if you have a sliding patio door, consider installing a door pin. These secure the sliding and static doors together for added security.
Fitting shatter-proof film to the glass also protects against attempted break-ins or vandalism.
Securing detached homes
Detached and semi-detached properties have more potential entry points and therefore require extra protection.
Fitting a visible CCTV system on exterior walls is among the top deterrents to potential intruders, who aim to get in and out of properties undetected.
Similarly, installing motion-sensor lights around the property alerts you to intruders moving around the building or attempting to hide down the side of the house.
Protecting homes with gardens
While gardens offer the luxury of relaxation and fresh air, unfortunately, they also act as an additional entry point for unwanted visitors.
Where possible, trim back overgrown bushes which stop you seeing out across your garden. While gates and fences are the obvious first line of defence, planting prickly thorns or bushes also makes things difficult for intruders.
Tidy away gardening tools and equipment each night in a locked container. Not only does this prevent your valuable items being stolen but it stops intruders from using them to assist their break-in.