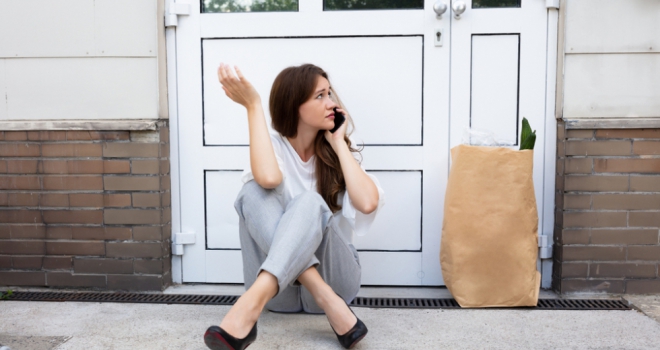 Modern life is busy. The majority of us don't have time to be stuck waiting around on the doorstep for help. That's why Izzy Schulman, Director at Keys 4 U, has put together his tips to prevent you getting locked out and advises on what to do if the worst happens.
Note to self
Forgetfulness comes over all of us sometimes. So, when it comes to remembering our keys, it helps to create habits to jog our memory.
Start behaviour patterns, like tapping your wrist with your key before you shut your front door whenever you leave the house. Eventually, it'll become a natural instinct and you'll never leave without your keys.
Plus, it helps to leave your keys in the same spot every time you return home. Placing a key hook next to your front door is a memorable and accessible place.
You could even leave yourself a reminder on the inside of your front door. Pin a note at eye-level on the door to check for your keys before you head out.
Lock maintenance
Getting locked out doesn't always mean you've forgotten your keys. Sometimes, locks get worn down by general wear and tear and simply stop working properly.
It can pay to take a proactive approach – keeping up with the maintenance of your front door lock to prevent rust or wear. Use a mild soap or surface cleaner over the face of the lock and latch. Stronger detergents may damage the metal.
Spray a small amount of lubricant into the keyhole and run your house key in and out to cover the full surface of the lock.
Trust a friend
If you live alone or can't always rely on a housemate to help you get into your home, it's recommended to get a spare key cut and leave it with someone you can call in an emergency.
Ask a family member or close friend to look after the spare key for you. Ideally, leave the key with the nearest person possible, to save time if you find yourself stranded.
If you have a trusted neighbour, ask them if they'd be interested in doing a spare key swap, so you can help each other out if you ever find yourselves stuck outside.
The smart choice
If you're prone to losing keys or leaving the house without them, consider installing a keyless lock or smart lock.
Keyless locks open using a typed code, while smart locks open when presented with a corresponding device using a Bluetooth or Wi-Fi connection. So, you can even open a lock using your smartphone, via an app.
Alternatively, fitting a key safe outside your home lets you keep a spare key nearby for when you need it, without the security risks associated with leaving a key under a plant pot or mat.
They work in the same way as a keyless lock – via a passcode, Bluetooth or Wi-Fi connection – and give you access to a spare key when you forget yours.
A helping hand
If you live in a rented home or apartment, give your landlord or concierge a call. They should have a spare key to your home and while they might not be able to provide urgent help, they'll give you the peace of mind of knowing help is on the way.
If all else fails, you can rely on a professional locksmith to help you get back into your home. Putting the contact details of a local emergency locksmith in your phone saves time if you do find yourself locked out and don't have an internet connection.
Emergency locksmiths will send out a local professional immediately, so you're not left out in the cold for long. They'll be able to pick your lock or replace a damaged lock with a new model for peace of mind.
If you're worried about the condition of your lock or have had the same home lock for a while, consider calling out a locksmith on a non-urgency appointment. This saves you on the costs of an emergency callout and they'll be able to fix any minor issues before they become full-blown problems, to save you from getting locked out.