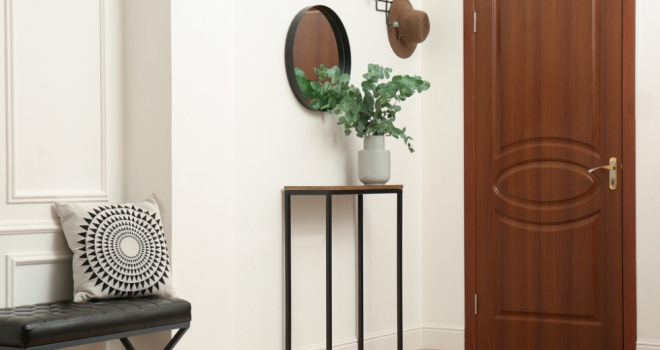 Once relegated to an afterthought when people began to ponder decorating their homes, the humble hallway has seen a resurgence in popularity with hallway-related interior searches, such as 'entrance hall ideas' and 'hallway design' growing by as much as 400% in the last two years.
In total, there are now over a million (1,157,890) searches in the UK for hallway design-related keywords. This is double that of 2019's 537,260 searches, suggesting that homebuyers are now focussing heavily on their entrance rooms as they look to welcome their guests as soon as they step through the door.
On the back of this research, New homes builder, Miller Homes, has revealed its five top tips to create a stand-out hallway.
Naturally, a homebuyer's main priority when renovating a home lies within the main rooms where they'd eat, relax and rest. However, with more time at home, people are likely looking at other spaces that might need a refresh.
Five tips to create a warm, bright and welcoming hallway that won't break the bank:
1: Add a stair runner
By adding a simple stair runner, you can elevate the space from simple to elegant. Make it patterned or a bright colour to draw visitors in and want to explore.
2: Use mirrors to make your hall seem bigger.
Create the illusion of space and hang a large statement mirror on the wall. This works particularly well in narrow and darker hallways when you may not want a large piece of artwork.
3: Consider colours wisely
Choosing the right paint colour could be the difference between a warm and welcoming hallway and a dark and uninviting space. If there is low natural light, opt for a lighter colour on the walls to brighten up the space. Lots of natural light can handle the darker hues and even colours on the ceiling.
4: Invest in a console table
A simple way to add personality to a large or small space is by getting a console table. It doesn't have to be anything fancy but it is the perfect place to showcase photographs, statement vases or a welcoming message to guests.
5: Keeping things neat with storage
This doesn't have to mean huge cupboards and lots of drawers. By getting a small shoe ottoman, you can keep the pile of shoes that collate at the front door neat and tidy. You could even upcycle an old chest of drawers and create a statement furniture piece.
Suzanne Thomas, Interior specialist and creative sales director at Blocc Interiors, said: "Hallways need to create that all-important first impression not just to visitors but also to warmly welcome homeowners back into their house. When approaching the interior design of a home, we always try to have a talking point from the get-go. This could be a feature print or staircase or interesting wallpaper. Statement artwork or family gallery artwork always works well as it helps people visualise the home more effectively and demonstrates a personal connection."
Anne Marie Britton, Group Sales and Marketing Director at Miller Homes, adds: "The pandemic has definitely impacted the way new homeowners feel about interior design and the extra time we have all had by staying at home has meant we can finally tackle the renovations we might have been putting off. The research we have carried out supports the idea that people are wanting to focus on a welcoming entranceway to a home just as much as other main rooms. It has been very interesting to see how new residents across our developments have put a personal stamp on their homes."