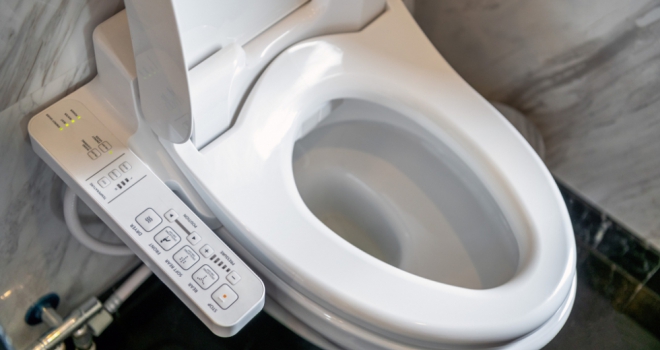 Amid the current property scramble for larger homes and more outside space, new research reveals that the smallest room in the house is seeing a spike in demand for space-age tech, allowing homeowners to boldly go where no one has gone before.
And not content with having a futuristic bathroom, it seems that the vast majority of us want more of them as well.
A new survey of house hunters has revealed that 86% would be willing to pay more if the property in question came with at least two bathrooms with one in ten admitting that they would be happy to pay £10K+ per extra bathroom.
According to research by The Bathroom Showroom, men are particularly keen on having an extra 'small room'. On average, men would be happy to pay 60% more than women when it comes to securing a new home with multiple bathrooms, with male respondents paying up to £4,400 per additional bathroom while female respondents said they are only willing to pay up to £2,750.
Extra bathrooms are also more sought-after by younger generations, with the vast majority (95%) of 25-34s willing to pay more for an extra bathroom (£4,850), versus 77% of over 65s (£2,670).
Residents of Liverpool would pay the most (£5,530), followed by those living in Bristol (£5,105). In contrast, residents of Belfast would pay the least for an extra bathroom (£2,025), followed by those living in Newcastle (£2,050).
According to Peter Elson of the Tamworth branch of YOPA Estate Agents, a second and even third bathroom is becoming a necessity for those looking to move to a new house.
He said: "You can add up to 5% value to your property by adding a second bathroom, more so even in the current market. A lot of second-steppers I see have a second bathroom right near the top of their wishlist. An en-suite is no longer a luxury - it's a must-have - and a four-bedroom home should have a minimum of two bathrooms, ideally three."
When it comes to specific features, an en-suite bathroom off the master bedroom is the most popular choice, with almost half of house hunters involved in the research (42%) selecting this as one of their key requirements when choosing a new home.
In second place was a separate bath and shower, with 41.5% stating this is a priority when searching for a new home.
The research also indicates that there is a clear split in priorities between the younger and older generations when it comes to their bathroom choices, with those aged 45 and older prioritising an en-suite in the master bedroom (51%), while 18–44-year-olds prefer a separate bath and shower (43%).
Interestingly, twice as many men (10%) than women (5%) are happy to pay extra for a bidet, while more women (13% versus 6.5% of men) will pay more for double sinks.
Having a bathroom with the latest technology is also of interest for some house hunters, with 12% are looking for a TV in the bathroom and one in ten hoping for an electric smart toilet in their new home. These features were particularly popular with buyers aged 25-34
Designers at The Bathroom Showroom reported that incorporating technology into a bathroom is currently a rising trend, with many customers installing smart mirrors, digital showers, touchless values and eco-friendly solutions.
Parv Sangera, Managing Director at The Bathroom Showroom, adds: "It is clear from our research that additional bathrooms will be a priority for many house hunters in 2021, however, it was interesting to see how favourite features vary by generation and gender.
"With property experts stating that an additional bathroom could add 5% to your home's value, this could equate to an additional £12,500 for the average UK homeowner.
"If you are thinking of adding an additional bathroom to your property in order to facilitate a house sale, then the research shows that prioritising an en-suite, a bath and separate shower, a walk-in shower or underfloor heating could make your property more appealing to potential buyers."