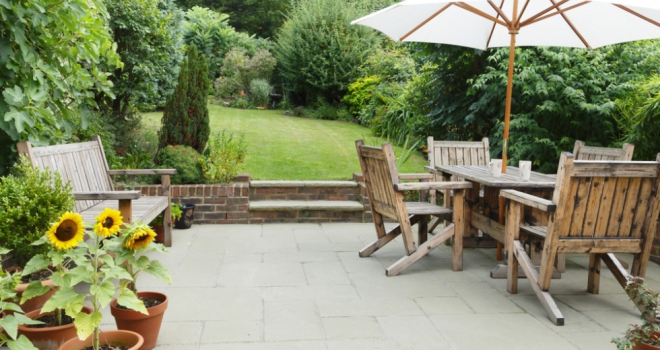 The garden has always been a valuable element of a property, but never more so than in 2022.
Louise Ridings of Stacks Property Search, says: "A variety of issues have combined to create a perfect storm of garden desirability. Firstly, gardens are getting smaller. Developers who want to maximise profits are building properties that have minimal outside spaces and buying up single properties with large gardens to use as small development sites. Meanwhile, some property owners are selling off bits of large gardens for development.
"The overall effect of this capitalisation of garden space, where a large garden can be worth upwards of £1m to a developer, is that the average garden is getting smaller, while as a nation we are developing a growing love for outside space. Concern for the environment, combined with two years of successive lockdowns has made our relationship with the outdoors much stronger than in the recent past.
"It's not unusual for half the value of a property to be in its garden, and it's often the case that the plot is worth more than the property. The balance is likely to swing further in the direction of plot value over property value. The importance of the garden will literally grow and grow."
So how does this affect property buyers' decision-making?
Louise explains: "Buyers should pay great attention to plot when looking at a property with a view to buying. Size is obviously important. Too big for your needs is much easier to remedy than too small. A garden that's larger than necessary can be allowed to go wild and require little upkeep. But a garden that's too small will compromise the property's value, even if you don't want much garden space yourself.
"But size is by no means everything. Shape, access, aspect, accessibility and gradient are vital; views from the garden and what it is overlooked by are also important considerations.
"How a property sits in its plot is important, ideally wrapping around the property and easily accessible from the ground floor so outside 'rooms' can be created when British weather permits. It's also desirable that the garden can be accessed without going through the house.
"Aspect shouldn't be ignored; when viewing a property check which way the garden faces, where the sun rises and sets, and whether any adjacent trees or properties will be blocking your light and sunshine.
"Gradient can be an issue, but a lot can be done with terracing, and some gradient can actually improve the potential for creating different areas and spaces and adding interest.
Louise adds: "The pandemic has turned a whole generation into keen vegetable growers, so give consideration to where you might position vegetable beds and utility space for composting, shed space, and storage of paraphernalia. Veg gardening provides food, mental and physical health well-being, and is a great pastime. It's a triple win. And we're seeing more and more homeowners hiving off bits of their gardens for wildlife, re-wilding on a mini scale, swapping immaculate lawns for wildflowers, bees and butterflies in glorious chaos.
"Space for an outside office or habitable shed is a great asset and an excellent way of adding secondary accommodation that can be dramatically less expensive, and more flexible, than adding an extension to the property itself. Check if you are going to need planning permission from your local authority.
"Property buyers should not be afraid to look at gardens as blank canvases. If the size, aspect and position works, but existing structures and arrangements don't suit, start again from scratch. The big benefit is that rearranging garden space tends to be much less expensive than changing internal space."
She concludes: "Finally, don't ignore outdoor space at the front of the property. A table and a couple of chairs at the front are a great way of meeting the neighbours and engaging in spontaneous and low-key 'street-socialising', so much easier than a dinner party!"